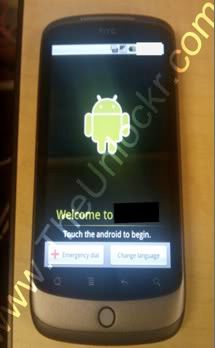 The game changing phone that everybody has been waiting for has been confirmed. Starting off with tweets from Google employees around the world now Google itself has confirmed that the
Google Phone
is being tested by their employees around the world.
Should the iPhone be worried? Check the break for what we know so far.

TechCrunch has been leading the news on the Google Phone for sometime now and many have commented that they're just imagining things but now they seem to have the last laugh, hopefully. Here's a sample tweet that they dug out from a supposed Google employee.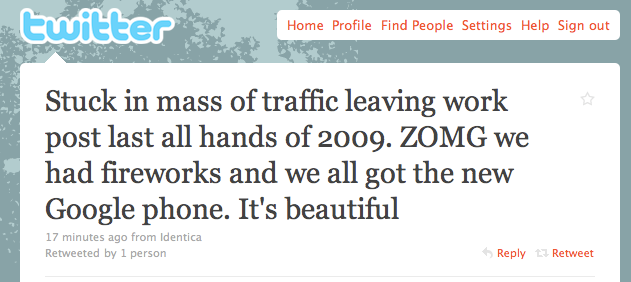 According to the numerous tweets they found the Google Phone was handed out to employees at their all hands event and people started tweeting like crazy.

So what do we know about the Google Phone so far? Here's what TechCrunch has.

The phone itself is being built by HTC, with a lot of input from Google. It seems to be a tailored version of the HTC Passion or the related HD2 (Unlocker scored some leaked picturesback in October which are of the same phone).

Here are the details we know so far about the phone: It will be called the Google Phone and will launch in early January, 2010. It won't be sold by any one carrier, but instead will be an unlocked GSM phone. In the U.S., that means T-Mobile and possibly AT&T, whose exclusivity deal with the iPhone is about to run out. It will be running Android 2.1

The phone is "really, really fast," says someone who has seen one in action. It runs on a Snapdragon chip, has a super high-resolution OLED touchscreen, is thinner than the iPhone, has no keyboard, and two mics. The mic on the back of the phone helps eliminate background noise, and it also has a "weirdly" large camera for a phone. And if you don't like the touchscreen keyboard, a voice-to-text feature is supposed to let you dictate emails and notes by speaking directly into the phone.

If this has a large touchscreen I'm pretty sure it's going to be capacitative a lot of people would be disappointed if somehow Google decided to go the resistive route. It's also going to be unlocked which is a good thing but would definitely bring the price up. Hopefully when the Philippines gets this it won't hurt our pockets but I'm not that
optimistic since this would be a premium gadget for sure.
The Google Phone is a game changing piece of hardware since it's the first ever hardware that would come out of Google and hopefully not the only piece they would produce. I'm sure this will get a lot of fanfare like anything that comes out of the search giant. And I'm curious to see what this phone would actually bring to the mobile realm and what new features it will introduce to all us geeks. Let's all start dreaming and drooling for now.
Posted by Jab Escutin
Source:
TechCrunch