After the long wait the World of Warcraft Series 5 figures have finally arrived. Courtesy of our friends over at Datablitz. I'm kind of surprised that Datablitz got these figures on the actual release date. On the way home I just got the urge to go window shopping over at Datablitz just to see if they had any kind of sale on old
Warcraft Figures
. But I was greeted by these new ones instead. I wasn't actually planning on buying from Datablitz but since they already had it I just had to bring these guys home. Check the break for our initial impressions of these wonderful figures.
First up we have the
Scourge Ghoul: Rottingham
. This figure is the lightest of the three which is most likely why it's priced a little bit lower. I'm really liking the overall undead feeling this figure brings with it. I'm confident that the colors on this one won't disappoint us like previous figures but let's wait and see in a few weeks when we get to post unboxing and reviews. It's got bloody red hands with great detail all over especially with the rotting flesh and bandages that I can't wait to photograph in detail to share with you guys.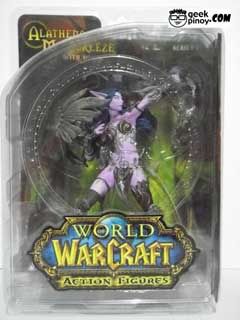 Among the three figures in this set
Night Elf Hunter: Alathena Moonbreeze with Sorna
is my favorite. I just wish they didn't opt to change the color of her hair to blue. The original plan was to have her hair colored white with a little bit of highlights here and there I'm sure. From what I can see Sorna's already attached to her and if that the case only half of the bow is your one and only accesory. Even with the changes this figure still looks like the best figure in this series since real Night Elves.
From what I can tell the
Alliance Hero: Lo'Gosh
is the heaviest among the figures in this set. I can see that he has two accessories with him, two blades with blood spatter all over the edges. Looks like the colors have improved for this line specially with anything color red. I'm just wondering why his belt buckle has some sort of greenish color to it.
If you're a true blue Warcraft fan these figures would be a great addition to your addiction.
I'm glad DC Unltd has improved the way these figures are colored and I'm very excited to do the unboxing and full reviews for this series but I have to complete every series in order first. So please stay tuned as we will continue posting figures.