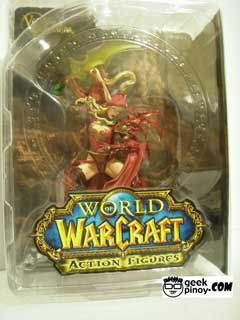 Blood Elves are known to be the elegant bad asses of the Warcraft Universe and Valeera Sanguinar is a great example of that. Her parents were killed by the scourge while she was young and she was left to fend for herself and learned to still what she needed to survive. Now a gladiator Valeera is a force to be reckoned with in the pages of Warcraft comic as well as in game in World of Warcraft. "Hot and bitter" just the way we like her.

This figure sculpted by Jean St. John and stands 7" at the highest point of her sword. With great details on her armor this figure has it's strong points as well as things we thought could have been improved greatly.
So head on to the break as we unbox this feisty rogue.






The packaging used for this figure is very different from what we had with Illidan Stormrage since Illidan was a deluxe figure. This one is encased in a plastic clamshell where we can see the whole figure. I really like the circular design on the front that looks like the portals in World of Warcraft makes me think that Valeera is coming out of a portal and into my geeky hands.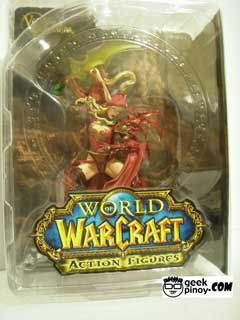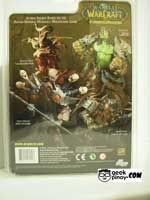 Inside you'll get the inlay with a catalog of current Warcraft related products and the next series of figures.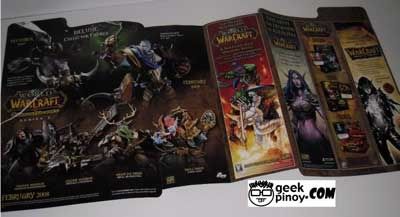 This figure comes with no accessories whatsoever so I guess what you see is what you get. Which really isn't a big deal for me since I'm not really expecting this to be something I can customize as with the Illidan figure this one only has two points of articulation the right wrist and the left elbow. So this is more like a display rather than something kids can enjoy moving around.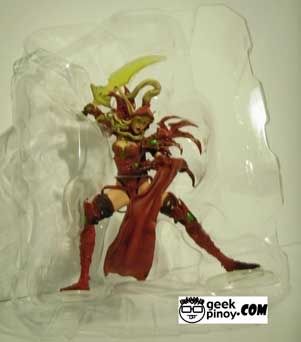 Here's a rotating view of the entire figure. One thing we don't like about this figure is the angle Valeera is facing. If you put this somewhere low you wouldn't be able to see her face. I understand she's a rogue and an assassin at best but given the angle of her face I think she's supposed to be somewhere high as if striking from above.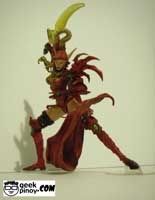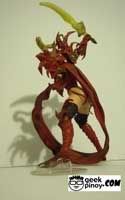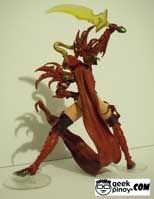 With the head angled like this it would be hard to find a spot where this figure would look good.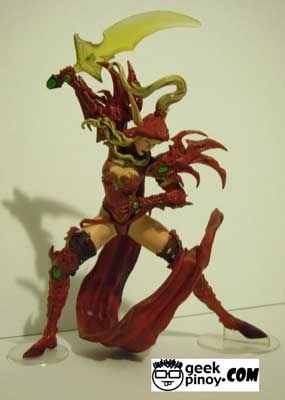 As I said this figure has no accessories whatsoever and everything is already attached. The sword is kind of transparent with a green yellowish color which gives it a magical look to it. but I really think it should have been more shiny or glowing for the effect to really make an impact.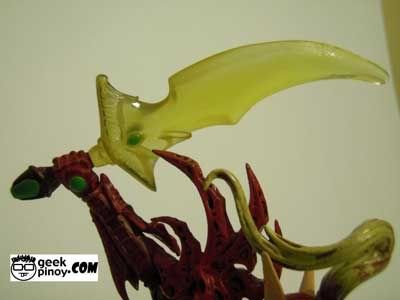 This face is kind of too expressionless for my taste or is it because she's a cold heartless killing machine? Anyway a little facial expression would have been appreciated not that we can see her face due to the angle.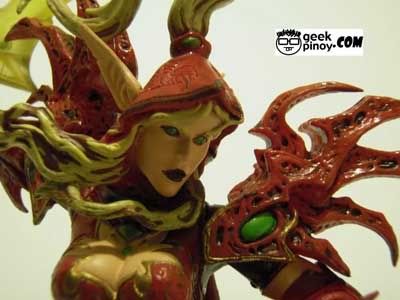 One thing we really feel that they could have done better is the colors on this figure. The green gems surrounding her armor looks like plastic and really doesn't shine. The hair is also a big let down, what's with the brown highlights? She should have been blonde through and through.
A lot of detail has been put on the armor which is great because Blood Elves pride themselves with the great detail and elegance of their armor.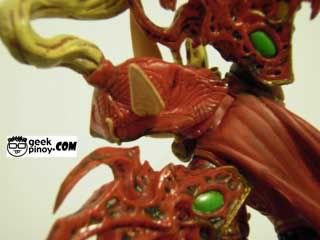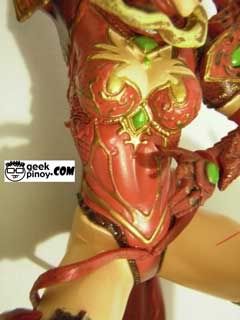 The detail on her torso is great but again the colors on this figure is a big let down. All in all it could've been a great figure if only the colors were applied better specially with the hair. This is a good figure but isn't the best series one has to offer.
Check back as we will have another figure coming up.
More info:
DC Unlimited Warcraft