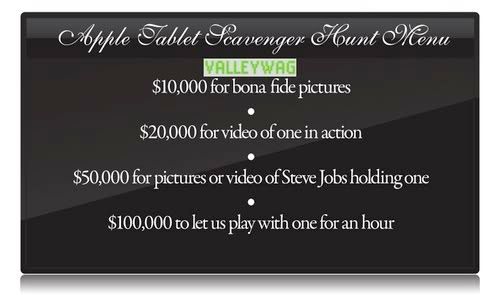 In a plan that seemed to back fire, Apple demanded that Valleywag stop their "Apple Tablet Scavenger Hunt". In a document sent over to them via the lawyers over at Orrick, Herrington & Sutcliffe, Valleywag needs to stop the hunt because "Apple has maintained the types of information and things you are soliciting ... in strict confidence". And by doing so also confirms that Apple is indeed working on a Tablet or a gadget of similar nature. Although no images of the gadget were sent over the guys over at Valleywag felt that the email deserved a consolation prize. Check the break for the list of the goodies Mr. Michael Spillner won. Oh and yeah the cease and desist order is also after the break.
The grand consolation prize Michael Spillner will be getting includes the following:
A DVD of Legally Blonde 2
A $25 Zune Marketplace giftcard
And a fabulous set of steak knives!

I bet the guys over at Valleywag are laughing their socks off. I guess the scavenger hunt was a complete success and the guys over at Valleywag got what they wanted. A lot of press. If you're into all that legal mumbo jumbo check out the documents.
Posted by Jab Escutin
Source:
Valleywag