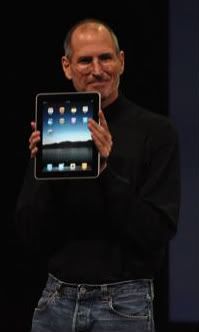 After a lot of rumors and speculation it's finally official. Welcome Apple's new toy for us geeks the Apple iPad. It's a 9.7" tablet that's about half an inch thick and runs iPhone apps out of the box. You have the option to run apps on a window or stretched out with double pixels for a full view. This I can say is the best kept secret in terms of leaked images. Apple made sure that the iPad is behind closed doors until today. Check the break for all the other cools stuff we found out straight from Apple's event.
Straight from Engadget's Live Blog of the Apple Event.
After nearly a decade of rumors and speculation, Apple's finally unveiled the iPad. It's a half-inch thick and weighs just 1.5 pounds, with a 9.7-inch capacitive touchscreen IPS LCD display, and it's running a custom 1GHz Apple "A4" chip developed by P.A. Semi, with a 10-hour battery life and a month of standby. It'll come in 16, 32, and 64GB sizes, and it's got the expected connectivity: very little. There's a 30-pin Dock connector, a speaker, a microphone, Bluetooth, and 802.11n WiFi. As expected, it can run iPhone apps -- either pixel-for-pixel in a window, or pixel-doubled fullscreen -- but developers can also target the new screen size using the updated iPhone OS SDK, which is available today.

It's basically a giant iPod Touch with Apple's own processor. It's got all the basic features we need but somehow I'm greatly disappointed that this doesn't have a webcam. Here comes the never ending decision to pick it up now or wait for the next version with hardware upgrades. So what do you think about Apple's new toy? Is it all you ever dreamed about or a total waste of your time?
Apple iPad pricing will start at $499, with the Wi-Fi only version hitting around March, and the Wi-Fi + 3G models to come in April. All in all there's going to be 6 available configurations:
Wi-Fi: 16GB ($499) / 32GB ($599) /64GB ($699)
Wi-Fi + 3G: 16GB ($629) / 32GB ($729) /64GB ($829)

Visit the source link because Engadget's got a ton more images of this new device.
Update:
Added more photos and pricing details
Update 2:
Added Chris Hardwick's hands on video
Posted by Jab Escutin
Source:
Engadget