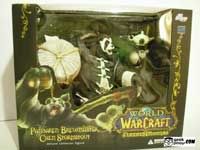 It took a couple of weeks and a significant amount of cash just to get this limited edition figure but here it is shipped directly to my place in Makati City Philippines. The
Pandaren Brewmaster Chen Stormstout
is a Word of Warcraft action figure only available at Blizzard's US online store. It's the first and only official Pandaren collectible to come out from Blizzard. Check the break for our first impressions on this great figure.
Shipped by the guys over at FedEx this figure comes in a standard box with bubble wrap that I may say was only thrown in. It wasn't actually covered by the bubble wrap, more like the bubble wrap was just thrown into the box. Anyway here's the images and don't forget to click on it for a better look.
There seems to be a couple of drip stains on the figure but still seems like the figure isn't damaged in anyway whatsoever so it's okay. On the left side you have the actual figure demo and on the right the original art from the artists of Blizzard. This figure is a bit heavy maybe because of Chen's big body and the drum he's always carrying around. Looking at the figure inside the box I can see that the black can be a bit darker or more solid. There are some parts of Chen's outfit that seems to be washed or not dark enough. But hey I'm just looking into the box. I kinda like the accessories though and green buttons on his outfit looks great.
On the back you get a catalog of the series 6 figures. The design of the box really makes you feel that this one is special compared to the other deluxe figures.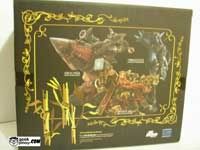 Here's details from Blizzard US Store.
Pandaren Brewmaster Deluxe Figure

The first pandaren collectible ever! Capturing the elusive (and world-celebrated) Chen Stormstout for the first time in 3D, the Pandaren Brewmaster Deluxe Action Figure is a limited edition, one-of-a-kind Blizzard online store exclusive! This premium-sculpted piece stands at a colossal 8", features Chen's signature bamboo Bo staff and Brewmaster's keg and comes packaged in a 4-color, spot UV collectors window box.
Art Directed by Blizzard Cinematic Creative Director Nick Carpenter. Exquisitely sculpted by Ray Villafane and painstakingly painted by Eddie Wires.
Pandaren Brewmaster Action Figure is a limited edition opportunity and is subject to a first-come, first-serve basis for distribution.
Check back here as we will post unboxing and the full review of this great collectible.
Posted by Jab Escutin
More info:
Blizzard US Store