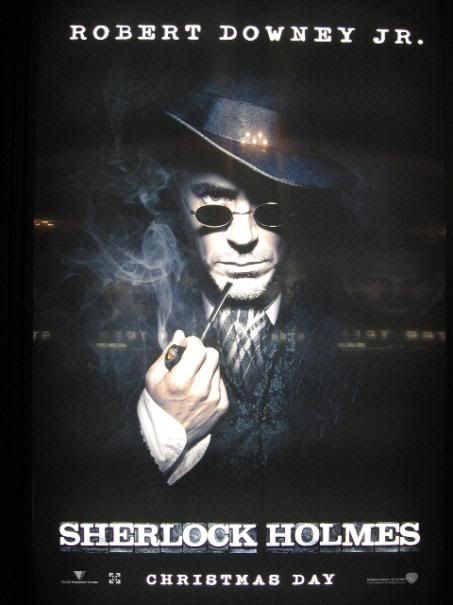 It is a fact that all of us are geeks in some ways. In the movie realm, we have different groups focusing on their favorite characters, writers, directors, movies, etc. And for 2010, all of us are waiting for Robert Downey's portrayal of Sherlock Holmes. It is safe to say that Downey has evolved into a versatile actor. But what I like about him is he can still project his individuality in the characters he portrays. (And of course his handsome face and fig!)
A well established group of people from different designations are also very fond of Sherlock Holmes and called themselves the "Sherlokians." They are scholars of the works of Sir Arthur Conan Doyle, the creator of this fantastic character. The group "The Baker Street Irregulars" as they would like to be identified, have seen the movie and gave their reviews and their verdict: "film is a fun -- and even occasionally faithful -- romp through Sherlock lore that the author himself would have enjoyed."
I have been a fan of Downey since "Hearts and Souls" and "Chances Are." I always find him very adorable and charming. Sherlock Holmes as well as Iron Man 2 are pretty much on the top of my movies-to-watch-this-2010 list. Read on for some more interesting facts about this movie.
Because they are so familiar with the entire canon of four novels and 56 short stories written by Conan Doyle, Sherlockians naturally nitpicked some minor details. For instance, in this film, Watson introduces his fiancee, Mary Morstan, to Holmes for the first time.
"But we know Watson met Mary Morstan because she came to Holmes for help in 'The Sign of Four.' Holmes already knew her," Peck explained.

And Holmes' love interest in the film, Irene Adler, the con woman played by Rachel McAdams, was in only one of Conan Doyle's stories, "A Scandal in Bohemia."
"While she was called an adventuress in the story, she was not a criminal by any means, as she is portrayed in this movie," Peck said.

"Conan Doyle was not without a sense of humor and might have been amused by this film. He didn't care enough about Holmes to insist on canonical accuracy," Rosenblatt said. "When William Gillette, working on a Holmes play, asked Doyle if it was OK for Holmes to marry, Doyle is said to have replied, 'You may marry him, or murder him, or do anything you like to him.'

See you at the cinemas, Geeks!
Posted by Soraya Peralta
Source:
CNN Showbiz