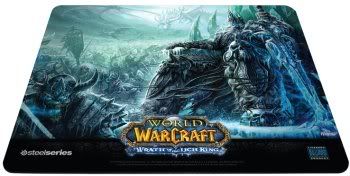 Ever since I started using the optical mouse for all my cursor duties I never felt I needed a mouse pad anymore. But the Warcraft collector geek in me really wants to have this SteelSeries World of Warcraft Mouse Pad. I really wouldn't use it for it's actual intended purpose though, I think I'd rather have it framed or hanged on my wall or something like that. I'm really not sure how different this mouse pad is when it comes to function or build or anything to that nature. But the art is enough for me to want one which I think is SteelSeries' point. And by the way there's also a keyboard after the break.

Like the rest of the world I've been waiting like hell for Starcraft II to be released. It's the only reason I want to buy a new gaming desktop. But I guess we'll just have to wait and just think that the guys over at Blizzard are doing their best to bring out the best and balanced game we geeks can enjoy. So for now let's just be satisfied with peripherals inspired by the games we love. SteelSeries incorporated a lot of shortcut keys to the keyset that will enable the user to generally learn the game in a much faster pace as compared to someone that's using a conventional keyboard.
The keyset will set you back for about $25 and the mouse pad will cost you about $15 to hold and cherish. That's if somebody will be nice enough to ship to our shores here in the Philippines.
Posted by Jab Escutin