Created a torrent file and want to share it with your friends and family? Ever get sick of all the ads and all the registration and spam you have to go through just to upload a simple torrent file? Well Seedpond might be able to help you out. It's a no nonsense torrent hosting site that let's you upload all the torrent files you want in just two clicks. No registration no ads just pure simple uploading.
It's as simple as two clicks, yes you read it right just two clicks. Just click on the upload button and select the torrent file you want and then you get this: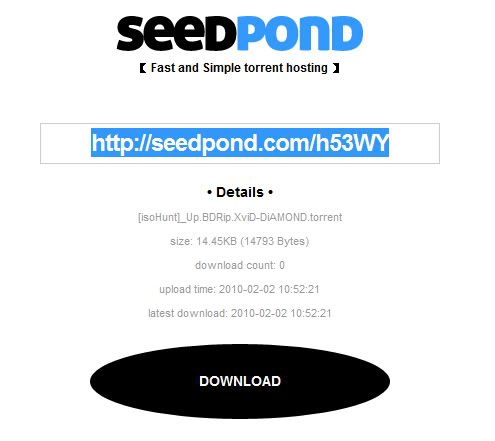 Now all you have to do is copy the link and your done. Just share the link to anyone you want and that's it. No registration no ads no nonsense. It's great to see simple torrent hosting like these pop up nowadays it's like the sister site of
Nerrot
only the other way around. Just don't forget to copy the link or else you won't have any way of finding the file again since this doesn't have a search feature. Check it out and let us know what you think geeks.
Posted by Jab Escutin
Source:
Seedpond