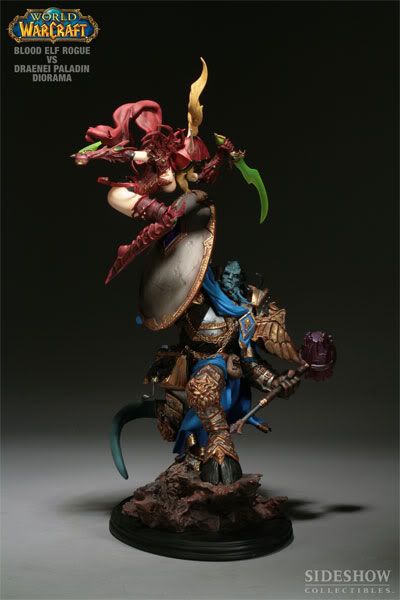 As much as I wanted to have this beautiful Diorama from Sideshow, my geek wallet just can't handle the $300 price tag that goes with it. Not to mention the ton of taxes and shipping that would inevitably be added on to it. I guess I just have to drool around the product photos they have on their site.
This diorama features a battle scene between the Blood Elf Rogue Valeera Sanguinar and the Draenei Paladin Vindicator Maarad. As with all of Sideshow's products this diorama is full of details down to the netherwhelp that goes with purchasing it straight from Sideshow. Check the break for some more drool worthy photos and more information.
Sideshow Collectibles and Blizzard Entertainment are proud to introduce the World of Warcraft diorama series with this epic first release. The diorama is based on artwork that was released as a teaser to the game's expansion pack in January 2007, The Burning Crusade. It captures the ferocious battle between a Blood Elf Rogue and a Draenei Paladin, celebrating the addition of the two new races.

The diorama features an incredible amount of detail and realism, as the artwork and in-game models have been translated to full three-dimensional reality. The artists at Sideshow worked closely with the team at Blizzard to bring this piece to life, sculpted in approximately 1:9 scale. Each piece is hand-cast in high quality polystone, individually finished and hand-painted to exacting standards. The World of Warcraft Diorama is complete with a hand-numbered individual edition number on the bottom side of the base. Don't miss this opportunity to begin your collection of limited edition World of Warcraft Dioramas.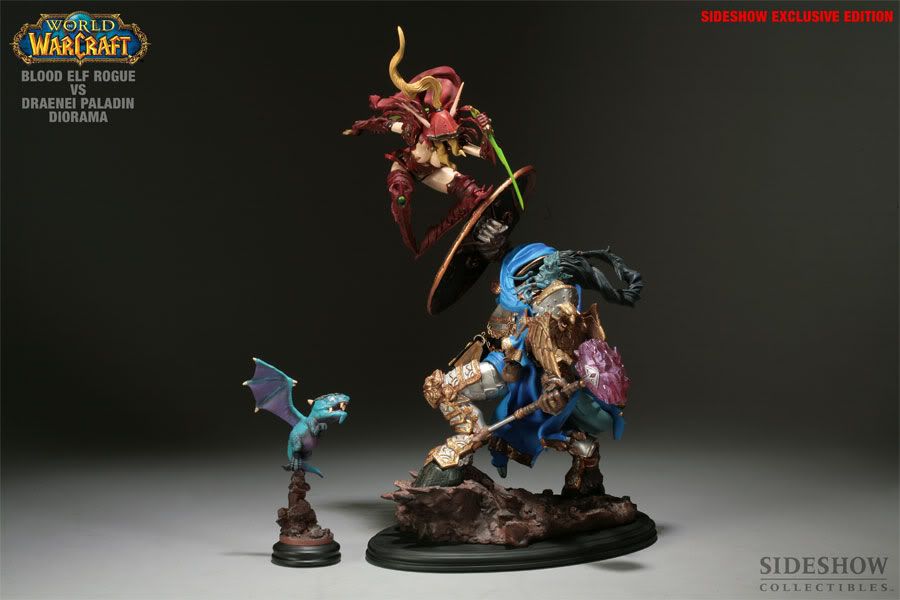 I would really like to post a full on review of this beautiful piece of art. Is anybody out there willing to lend a hand to a poor geek?
Posted by Jab Escutin
Source:
Sideshow Collectibles