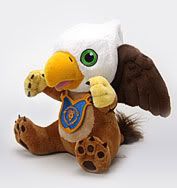 A while back we posted details about the upcoming World of Warcraft Gryphon and Wind Rider Cub Plushies that would soon be available at Blizzard's online store. Well this time we're posting just to let you know it's already up on Blizzard's US store. Apparently it's a limited edition collectible which you can only get at Blizzard's US online store and you can only order 3 of each. Asking price is a whistle below $25, which is a good buy if you consider the in game pet that goes with each plushie. Check the break if you want to go all cute and cuddly.
Gryphon Hatchling with BONUS In-game Companion
The pet store just went plush! Introducing the Gryphon Hatchling, the first in a new line of cuddly, crafty critters, exclusive to the Blizzard Entertainment online store.
Key Features:



AVAILABLE FOR A LIMITED TIME ONLY
INCLUDES A LOOT CODE FOR A MATCHING IN-GAME NON-COMBAT PET, WHICH WILL BE ACCOUNT BOUND
ACCESSIBLE BY BOTH HORDE AND ALLIANCE PLAYERS.
22CM TALL
RIDICULOUSLY CUTE!
MADE OF PREMIUM "SUPERSOFT" PLUSH MATERIAL
HORDE OR ALLIANCE SYMBOL EMBROIDERED SHIELD ON THE NECK


Catch him now before this offer, like the Gryphon Hatchling, flies away!
* Limit 3 per customer.
Posted by Jab Escutin
Source:
Bizzard US Store