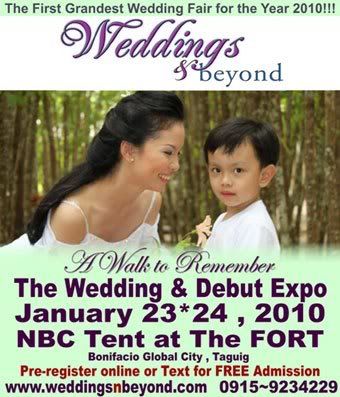 Brides, grooms and Spectators gather in this year's Weddings & Beyond Wedding Expo at NBC Tent last 23rd of January. Geekpinoy was once again on site to give you details of this wonderful and romantic event.
Cheesy? Trendy? Or Pricey? Read on and you be the judge!
For years now, I've always been a part of this industry. I've noticed it's evolution from the 80's where it was a custom to give small trinkets and keepsakes (kissing glass swans, small baskets with motif colored laces, etc.), to the 90's where the invitations had their time to shine (native-bamboo themed, printing on acetate with a laid paper background, embossed, colorful, etc.) to the 2000 where there was a revamp (from the bridal gowns and groom's barong or suit, souvenirs, program, wedding set up, etc.). I ain't a wedding guru but I've been a part of a lot of weddings of my older and some younger cousins and about a year ago of friends too! So I got a whole bunch of observations and souvenirs, not to mention the gowns I've worn since they could get me as their flower girl.
Growing up, I've dreamed of my own romantic wedding (since I was 12!). In several occasions, I've played multiple roles – coordinator, maid of honor and the host. It was pretty stressful but I didn't mind. I loved it! So I started going to different wedding exhibitions even if I was alone and just an observer. I didn't know I'd be able to write about it though until this time. And this was pretty special for me as this is the first time I went with a partner, my partner! I couldn't fathom my excitement that day!
Now, enough about me. On to Weddings & Beyond!
As you enter the premises, they have set up an arc and a bridge, where, as we have noticed, people could not stop themselves from taking pictures (including my partner and I and our friends). Then at the main entrance was the registration for guests. We got in for free as we registered online prior to the event. They also provided us our name tags and a wedding directory (like how handy could that be!)
The lobby area, when I was facing the entrance of the exhibition hall, had the registration on the right side and catering set up on the left – you can actually buy some food and sit for a while. The center was set up with a red background with the name of the organizer (Weddings & Beyond) and with a little bit of landscaping. Perfect for picture taking again!
Then we entered the hall. My excitement was at a high and I couldn't keep myself from smiling. It was like my facial muscles had a mind of their own. The area was pretty cramped though – both with guests and exhibitors. So we took the isle less traveled and started our journey.
My oh my! Trends now have once again evolved! Make up artists from all over the world and backgrounds are starting to invade the scene. These are professionals and not just your friendly neighborhood parlor. In make up, one that caught my attention was the spray painting make-up. The base or foundation will be sprayed on to your face for a fuller coverage. The colors – eye shadow, blush, lipstick and the others- will still be done manually for accuracy. Booths were set up to have a trial make up for the scouting brides-to-be. Their coordinator or friends waiting for the result for their judgment.
The booths were not assigned by their categories. So you really have to walk through all the booths "for a much better coverage" as they'd say. Along the way, you'll see flower arrangements (ranging from P20,000-P35,000 for a full set-up including wedding bouquet and flowers for the entourage), wedding gowns (starts at P25,000), caterers (from P80,000-P200,000) and photographers (from P20,000-P50,000). We didn't have time to talk to each supplier so we scanned and took some of their flyers for our perusal later on. Only those who caught our attention first hand had the chance of selling to us personally.
The other isles, aside from the gowns, photo and video and caterers, had souvenir suggestions, cakes, invitations, and travel packages for the honeymoon. Of course, the Weddings & Beyond had their own spot for their magazines. They publish two issues in a year – one for January to June and another for July to December. They had some of their back issues on sale at P50 off. Of course, I purchased the latest!
"Diamonds are a girl's best friend…" as sung by Nicole Kidman in her movie Moulin Rouge. And I totally agree! Don't you, girls?
There we were, canvassing the jewelry booths. I got to try some of the engagement rings. Prices varied depending on the diamond setting of course, quality, design and the terms of payment! Nowadays, because of the emergence of the magic plastic that is the credit card, the terms "lay-away" and "installment" came back to our senses. Some of the jewelers allowed wedding and engagement rings packages, where you can purchase both at a discounted price and on an installment basis. The payment may be done through your credit cards or by cash deposits. The catch, you can only get your rings once you've fully paid them.
My favorite was the photo booth! This is a new trend not only for weddings but for different occasions as well. This is like the regular "Foto-Me" booth where your picture will be taken four times and it's up to you if you want to change your pose. These booths will print the pictures right away with the names of the newlyweds on the background. You can also edit the background and the boarders according to your liking. You can enjoy unlimited shots for three hours for as low as P8,000.
The event was really helpful in getting new ideas and learning about the trends in the wedding industry. To those who would like to try to attend wedding exhibitions, here are a few tips:
1. Check out the details of the exhibitions – dates and venue.
2. Remember that in any exhibition, a registration fee is required. So make sure to check for some "early bird" registration details to minimize your costs and enjoy the exhibition for free or at a discounted rate at least.
3. Bring your camera. This will help you to capture those ideas that you liked.
4. Collect all flyers and get as many as you can. This will help you to have more options to choose from.
5. Check the net for schedules of other exhibitions this year.
So Geeks, you decide! There are a few more weddings and debut exhibitions lined up for this year. For the engaged couples, you can avail of a lot of discounts if you place your bookings on the spot and save as much as P5,000 on your dream wedding!
Enjoy and spread the love, Geeks!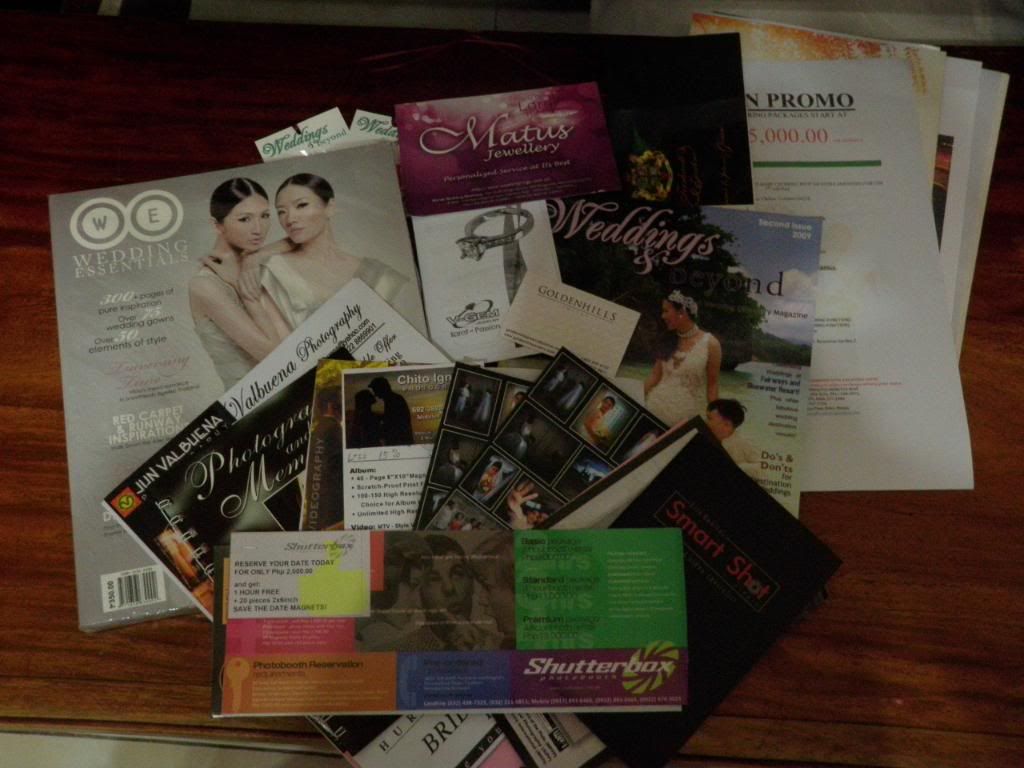 Posted by Soraya Peralta
More info:
Weddings&Beyond