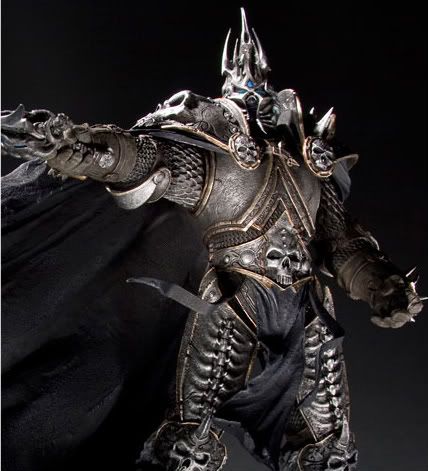 DC Unlimited's World of Warcraft Figures have been a great success because it gives us a tangible look at our favorite characters from the World of Warcraft lore. Series 7 was just announced over at the 2010 Toy Fair over at New York and it brings to life one of the most legendary characters in World of Warcraft, The Lich King Arthas Menethil. I can say that this set will not disappoint in anyway as big names are in line to be immortalized in PVC. Check the break for a better look at Arthas and the rest of the figures for this set including the Series 3 Premium Figures.
Deluxe Collector Figure Arthas Menethil will be available to us mortals around November 2010. If Arthas is the Deluxe Figure for Series 7 then who was the Deluxe Figure for Series 6? Is it the limited edition Pandaren Brewmaster which was only available at Blizzard's online store?
Here's the upcoming figures for Series 7.
The Human Paladin Judge Malthred
The Orc Rogue Garona Halforcen
A first look at the Worgen race with the Worgen Spy Garm Whitefang
Premium Series 3 Figures.
Orc Warrior Garrosh Hellscream
Troll Hunter Taz'Dingo
It looks like we have a lot to look forward to with the World of Warcraft Series 7 and Series 3 Premium Figures. Both Series 7 and Series 3 Premium figures are scheduled to be released around October so we still have a lot of time to save money, and knowing DC Unltd's delays it would probably be like around early 2011 before they release these out to us geeks considering Series 6 is due around July 2010.
Arthas Menethil is a figure I'm really looking forward to reviewing, but right now we can only wait and wait. And to think that we're still dying to get our hands on Series 6, we can't have this figures soon enough!
Update:
Added official images from
DC Unltd's Site
Posted by Jab Escutin
Source:
UGO