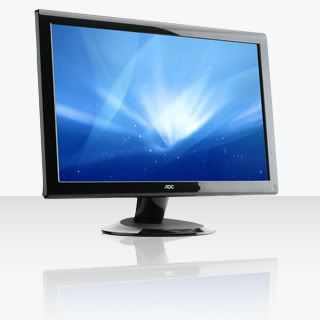 With my old monitor moving on to that junkyard in the sky it was time to go for an upgrade and this time we're going for the energy saving AOC e936Vw LED Monitor. I got this from the great guys at PC Worx over at Megamall, the original price was around PHP 6,900 but since I was paying in cash I got it for just PHP 6,200 which was a good deal. I was supposed to get it from Silicon Valley but the sales persons there were very inconsistent with the prices and the availability of stocks. One person said we'd get discounts for cash purchases but the other one said there's no discount plus they didn't have any stock and they we're trying to sell the ones on display which I didn't like since it was turned on while it was on display, who knows how long it's been there. Disappointed and frustrated I left Silicon Valley and luckily found PC Worx which had friendly staff and consistent answers to my questions. So if you're interested to see what you'll get with this monitor go ahead and take the jump.
Before we dive in here's a clip from AOC's product page.
The LED monitor e936Vw is the New Green Monitor of AOC. The 36 series e936Vw has a unique external design, framing the screen in a glossy piano black finish with sea shell texture.

The low power funtion of e936Vw saves 50% consumption than normal 4CCFL monitors. Its 16: 9 Widescreen, True Full Screen HD, 2000000:1 high contrast ratio with 5ms high response time are perfect for watching movie and video content. With a USB connector, it provides alternatives to connecting storage devices such as USB flash, hard disk and camera, so easy and comfortable.

e936Vw with its low power Consumption and Hg free has definitely achieved the highest standard of 'Green' monitor.
You generally get a lot of cables when you buy monitors nowadays, one for each way of connecting it to a certain input. The entire manual and drivers are on the cd the only thing printed is the way to assemble everything out of the box.
Assembling the stand is easy you just have to insert the stand to the base and turn this unique screw at the bottom of the base. Here you can also see the different connectors. There's also a USB slot on the side but I haven't tried inserting a flash disk yet. Weird thing is I don't see anything on the manual that says anything about the USB or what it's for. I'll post updates when I get the chance to tinker with it.
The easiest way to see the specs is by checking out the sticker on the side of the monitor. Great thing about these new monitors is the touch controls, it looks way better without all those buttons on the panel. Just a flat glossy surface that has a few symbols that activates the menu when you touch it. One thing I like about AOC is the i-Menu which is a small app that let's you control the monitor's settings right on your desktop. Instead of reaching out to the side of the monitor you can just go ahead and click on the settings with your mouse. User friendly is what they call it.
As this is an LED Monitor I'm really expecting some difference when it comes to power consumption but that's for another post right now I'm just glad to have a new monitor to use. Can't wait to watch Anime on this!
Posted by Jab Escutin
More info:
AOC