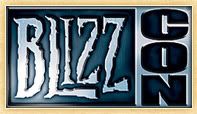 Yes you read it right, I will worship any man or woman that sponsors this poor geek's wish to go to BlizzCon 2010. Another year and another heart ache for geek's on our side of the planet that can't afford to go to the USA just to attend one of the greatest geek events on the planet. Details about BlizzCon 2010 have been announced and they're going back to the Anaheim Convention Center which is around a bazillion miles from where I live and it would probably take me a hundred years just to afford to go there and that's not even counting the challenges of buying the actual BlizzCon tickets which usually takes down the Blizzard Online Store because of the massive traffic it gets from the hordes of geeks trying to get the prized strip of cardboard. No details about ticket prices are available as of now but we have a couple of clips if you want to know more.
Blizzcon is the only time of the year World of Warcraft players go out of their basements and interact with real people it's sort of their own personal geek Mecca.
Here's some clips from BlizzCon's official FAQ. There's more if you visit the source.
WHAT IS BLIZZCON?

BlizzCon is a celebration of the Warcraft, StarCraft, and Diablo franchises and the communities that surround them. This two-day event will contain Q&A panels featuring Blizzard Entertainment developers, social events for players and developers to meet one another, hands-on gameplay featuring your favorite Blizzard Entertainment games, casual and competitive tournaments, and more.
WHEN AND WHERE IS BLIZZCON 2010?

BlizzCon 2010 will take place on Friday, October 22, 2010 and Saturday, October 23, 2010 at the Anaheim Convention Center, located at 800 West Katella Avenue, Anaheim, CA 92802. The hours of operation are 10 a.m. to 10 p.m. Pacific Time on both days (Friday and Saturday).
IS BLIZZCON OPEN TO ATTENDEES OUTSIDE THE UNITED STATES AND CANADA?

Yes. International attendees will be able to purchase tickets at the same time as domestic attendees. We have not yet announced when tickets for BlizzCon 2010 will go on sale, so please keep an eye on BlizzCon.com for more information.
IS THERE AN AGE RESTRICTION FOR ATTENDEES?

Some content at BlizzCon may not be suitable for children. Anyone under 13 must be accompanied by an adult. Absolutely no children 5 years of age or under will be permitted to enter. Tickets are required for all attendees, and the child ticket price is the same as the adult ticket price. Please note that no strollers will be allowed in the Anaheim Convention Center.
I repeat, I will worship anyone who gives me all the resources I need to attend BlizzCon 2010. I promise I'll bring in lots of pictures and log everything about my travel and be a good little geek.
Posted by Jab Escutin
Source:
BlizzCon 2010