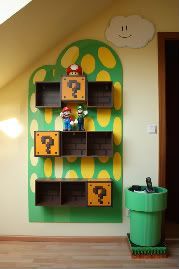 Neatoramanaut Dennis and his girlfriend Judith shared some photos of the great work they did for their apartment. I can't begin to say how awesome this Mario inspired shelf is, not to mention the beautiful warp pipe replica on the side. Everything here is made from scratch except for the Mario, Luigi and Mushroom figures which were store bought. This would be a great design concept for a kid's room or maybe a nursery but either way it's making my room look old and dreary. Check the break for a bigger image and try not to feel bad about your own room.
Just click on the image for a closer look.
They've got a couple more high res photos over at the source you can drool on.
Posted by Jab Escutin
Source:
Neatorama