"There was a time when I was the biggest star around here. And now that I've got that back, I'm never lettin' it go." – April Rhodes
Will Schuester finds that his Glee team is not very confident without Rachel and they are getting very suspicious about Quinn's morning sickness and behavior. Schue is going crazy on how to boost the kids again. He gets an idea to bring in a former Glee member, April Rhodes – played by Kristin Chenoweth – to help Glee get their morale back. Will Schue succeed? Or will he find that there is more than just bringing back April Rhodes?
Check out this Review for some new revelations!
SPOILER ALERT!!! SPOILER ALERT!!! SPOILER ALERT!!!
Glee practices for invitational when suddenly Quinn had to run to throw up. Kids are suspecting and Finn is getting worried with Quinn's parts – a lot of dancing and moving around – might harm the baby. The rest of the team is really losing their confidence since Rachel is now fully exclusive to the school play of Cabaret.
At the restaurant with Terri, Schue asks her why she doesn't get any morning sickness and compares her to Quinn who gets. She responds nonchalantly that Quinn is showing good signs of her pregnancy. You should see her face as she delivers her lines. She looks creepy in a funny and somehow cute way. Anyway, their waiter, Chris, was a former student at Mc Kinley High. He further states that he goes to some other school now, despite his age because they kept on failing him so that he could stay in Vocal Adrenalin. Ting! An idea for Schue!
Emma talks to Finn about his future. She told him that he can also get a scholarship even if he stays with Glee. And if he's really serious in staying, that maybe he can talk to Rachel too and see if he can make her come back.
Meanwhile, Rachel gets interviewed by the ever weird and freaky Jacob Ben Israel. He black mails her that if she wants to get a good review, she has t show him her bra – as in the one that she's wearing. Luckily, Sandy Ryerson arrived. Then Finn approaches Rachel, not to convince her to come back, but to entice her that if she needs someone to throw lines with, that he's there. Rachel was at her most vulnerable and couldn't say anything but, okay.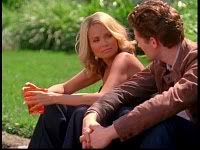 Now, Schue asks for April Rhodes' files from Emma. He started googling about her and communicated with her through chat. Next scene, he met up with her at a posh house in a posh village. He was amazed at how huge April's house is, until the broker came in with some prospective buyers and kicked April out. Kristin Chenoweth executed the role well. She was so comic and natural which was perfect for her character. Anyway, Schue offered her to finish the remaining credits she has in High School so she get her act back together.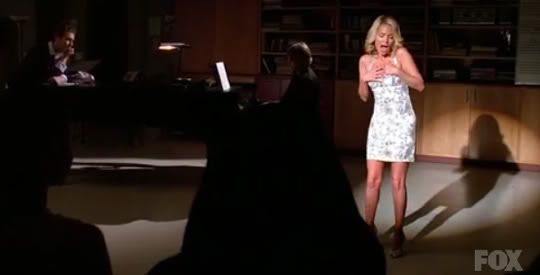 Schue introduces April to the team, but they were not so enthusiastic mainly because they find April too "seasoned." But when April sang in front of them, like an audition, their jaws dropped. April does have very good talent. I liked this part where April and Rachel sang together. It was like a subtle comparison of who did better. They both sang "Maybe This Time" from the musical Cabaret.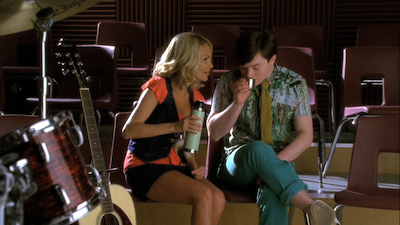 In class, April was not that good anymore. Schue talked to her and asked her if she could take some time to get to know the kids and win them over. She started with Kurt, going deep through his insecurities and told him that only with a few sips of her drink and he'll be full with confidence the whole day.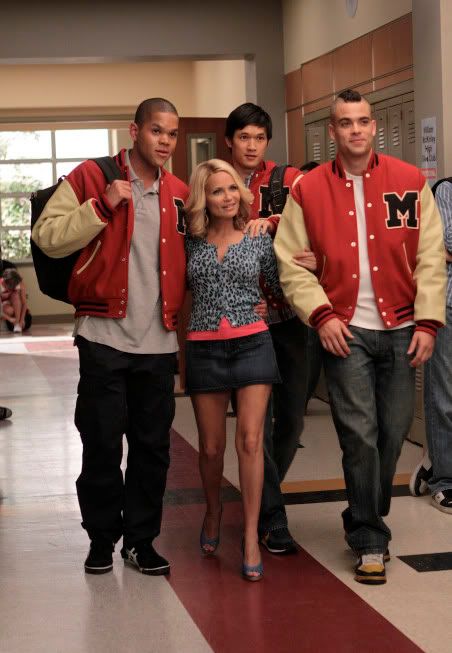 Then she taught Tina and Mercedes on how to keep things in between their knees so they can practically sneak out anything even a birthday cake with candles still lit. Ouch! Then she was out to please the boys of the football this time. In the end, they all agreed to have April in the Glee.
Rachel is practicing some lines with Finn. He invites her to go bowling to release some tension. Then April and Schue came in as they have to practice "Don't Stop Believing." He has to give Rachel's part to April. The scene ends with Schie asking Rachel to save them a seat in the front row. That was a pretty awkward situation especially for Rachel who was also debating that April is "ancient".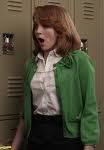 Emma noticed that Kurt smells like alcohol and is in fact drunk. Then when she stopped, Kurt threw up on her. And we of course know Emma's issues on dirt. That is why, after some deep cleansing at the hospital, she went directly to Schue to tell him that April is not a good influence for the kids. Schue insists that they need April if they want to be great at the invitational.
Meanwhile, Sandy screams at Rachel because, according to his expert opinion, Rachel is not doing very well for the play. As Rachel cried in the restroom, April was there too, trying to comfort her – April's way though. But they end up having a confrontation. Rachel told her that she's not a good influence to the team and if she wants to do her things her way, she can do it, just do not influence and affect other people. Basically, Rachel snapped when she heard April say that she has her eyes on Finn. It was typical to see two stars battle and not one of them giving up.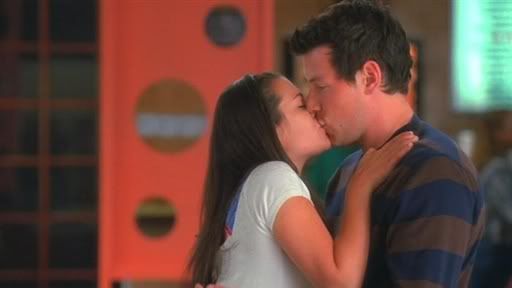 Now, Rachel and Finn share their time together at the bowling. It was Rachel's first time so Finn had to guide her. It was like a date, only that we all know what Finn's purpose was – to get Rachel back to the Glee. Rachel, after hitting a strike, was so happy and they landed in each others' arms. Rachel took the chance to kiss Finn and agreed right away that she will come back to Glee. It didn't even take her a minute to decide to give up her play. Poor Rachel, if only she knew. She actually fell when Finn said that he wants to spend more time with her.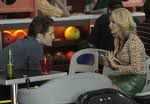 Meanwhile, Schue and April were at the bowling too. Schue wanted to talk to April about the whole "bad influence" issue. That she has to clean up her act and promise that she will be sober. Right then and there, she handed her drink to Schue and promised.
Then Schue admitted that he joined Glee because of April and his only wish was to sing with her. And so they did, doing their rendition of the song "Alone." Schue sang well and they had very good blending. April is sexy and hot but their scene did not depict malicious intent. That is why it was kind of cool.
Now, the kids talk about Quinn's behavior. Puck could not control it anymore and he just blurted out: "She has one in the oven!" This left the kids shocked. And when asked who the father was, Puck just said it was Finn. Then Rachel enters the room and announces her come back to Glee. But didn't get the enthusiasm she was expecting. Instead, she was greeted by a surprise about Finn and Quinn. She was actually speechless. I could relate to that feeling. When you give up something or when you put your life on hold for somebody, then discovering that that person has other purpose which didn't even include you. Sucks big time!
Finn drops his application form to Emma for his scholarship. On the way back to the hall way, Rachel called him and slapped him and took back her word of joining Glee again. Rachel approaches Sue and said that if they want her back, there will be some changes. Sue could not agree more and in fact, she gave Rachel full artistic control.
The Invitational. April arrived just in time and drunk as usual. Schue reminded her of her promise and all she said was he cannot hold her for it because she was also drunk at that time. Emma approached Schue and told him that April almost ran into her in the parking lot. Schue still insisted that they have a theater full of screaming fans and that he could not take her out now. So Glee performed very well, with April as their star and Rachel just in the sidelines watching.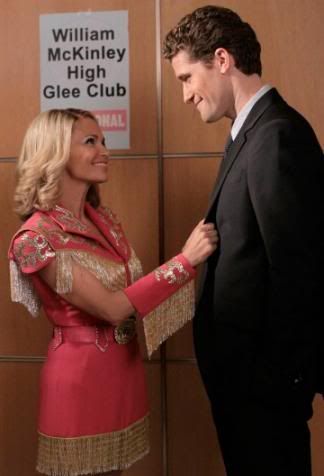 After their performance, Schue approached April and told her that she could not continue anymore because she broke her promise. Will thanked her for her time and April thanked him back. I guess it was more for April that through Schue, she was able to realize that she has to start to clean up. April accepted it and just left.
When Schue broke the news to the team, they all panicked as they had to cut the concert short because no one could sing the lead. Then Rachel was there, offering her talent, placing herself as an understudy. Nobody, especially Kurt, could believe that she called herself as an understudy.
Glee accepted her back and they perfomed "Somebody To Love." It was nice hearing this song performed by humans. Don't get me wrong because it was my absolute favorite when it was featured in Happy Feet. But maybe because the song had a nice message which was also fit for this episode. The last song sent chills down my spine.
Till my next review for Glee! See you then Gleeks!
Posted by Soraya Peralta
More info:
Glee Official Site