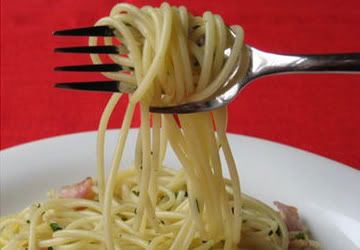 You and me, we basically eat the same way when it comes to the normal fork and spoon stuff. But when it comes to pasta we have more ways to get those noodles out of our plates and into our mouths. Most of us stick it in the middle of the plate and twirl the pasta on to the fork, others twirl it on the side of the plate, some people just want to scoop it up and slurp it, others even cut the pasta up which in my opinion defeats the purpose of eating pasta right? If you're going to cut it up, might as well eat macaroni right? Now with a little Japanese innovation we mere mortals will have what seems to be an easier way to twirl pasta onto the fork. They call it the Calamente Pasta Fork and you'll see it after the break.
Just click the image for a closer look.
With a little thumb-like addition to the traditional fork the designers hope to improve the way we twirl and eat pasta. It's very interesting and I'm really curious to try it out. One problem though, a pair of these would set you back 43USD + 18USD international shipping. That's around 2,800PHP or 1,400PHP for each fork. Damn!
Posted by Jab Escutin
Source:
Japan Trend Shop