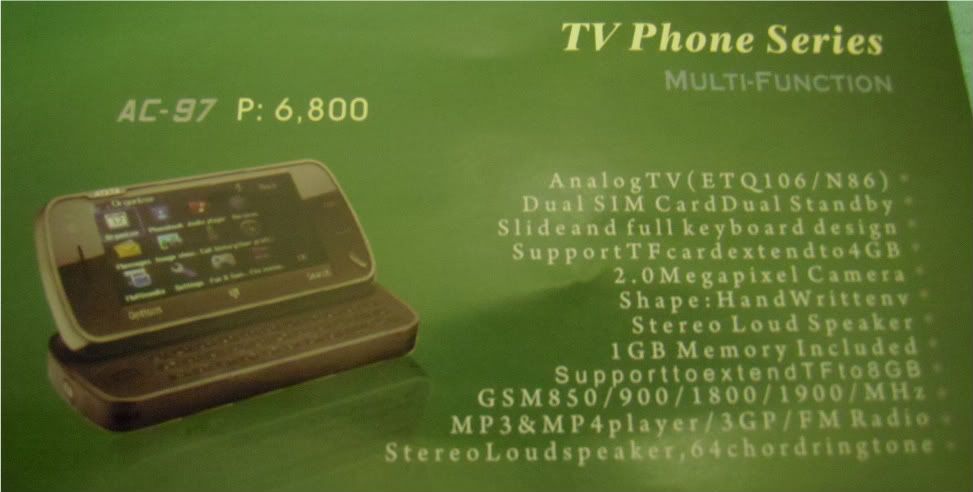 With every mobile phone manufacturer pumping out touchscreen devices up to our ears local company ATXTA thinks it can go against the flow and offer a more or less clone of Nokia's N97. Though you can see the basic similarities in design the AC-97 doesn't have a touchscreen but it tries to win our hearts by shoving in an analog TV receiver as well as support for dual sim cards. I really haven't seen the actual device but I'm pretty sure somebody will still pick this up because of the 6,800 PHP price tag, that's around $150 USD for you guys who aren't familiar with our local currency. If you're into knock offs you might want to check the break for the specs.
There's no word on the actual screen size but I'm betting it's around the same size as Nokia's N97 if not a bit smaller.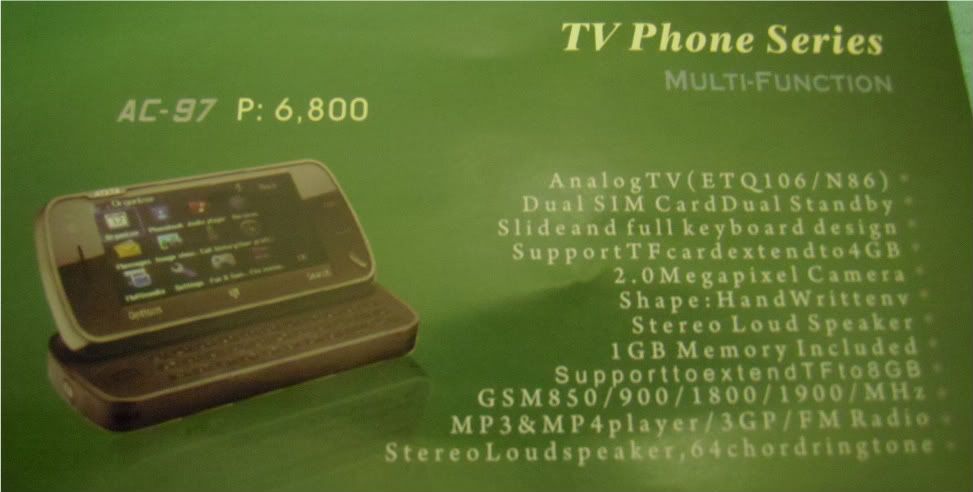 I'm just typing what I see on the brochure so don't go blaming me if there's anything you don't understand from the spec sheet.
AC-97 Spec Sheet

AnalogTV (ETQ106/N86)*
Dual SIM Card Dual Standby
Slide and Full Keyboard Design
Support TF Card Extend to 4GB
2.0 Megapixel Camera
Shape: Hand Written*
Stereo Loud Speaker
1GB Memory Included
Support to Extend TF to 8GB
GSM 850/900/1800/1900/MHz
MP3 and MP4 Player/ 3GP/ FM Radio
Stereo Loudspeaker, 64 Chord Ringtone*

* - Stuff I really don't understand
It's good to note that every unit comes with 1 Year Warranty, though I'm not sure what the actual warranty covers. I'm not planning to pick one up but if somebody out there has one please let's hear what you have to say in the comments.
Posted by Jab Escutin