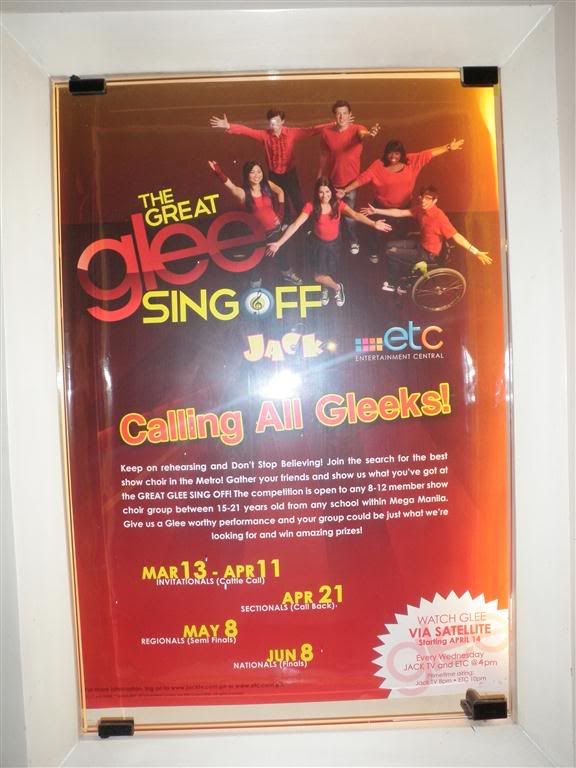 The Gleeks have witnessed the very memorable premier of the much awaited second part of the first season of Glee. This momentous event was made possible by the gorgeous and lovely people of Jack TV. GeekPinoy wishes to thank you for the invitation. It was indeed a lovely day!
This event was filled with different surprises. At the registration, you are given two drink stubs and one buffet band then you are lead to your assigned room. As we wait for the live telecast, via satellite of the "Hell-O" episode, we mingled with the people inside the room, had our pictures taken at the photo booth outside and of course, we tried the very tempting buffet.
Then the show started. Everyone was really paying attention. I was jotting down some notes on my iPod of the fabulous one-liner bombs that I didn't want to miss. We all laughed and really enjoyed the show.
Afterwards, we were asked to stay for a few more minutes for a small program they prepared. They all gave us loot bags with lots of lovely stuff (YEY!) and there were prizes too if you answered the questions correctly (another YEY!).
As we head out the door, some of the Gleeks lingered in the lobby for some photo and video shots. I even got a chance to be interviewed and videoed (double YEY!). I was too excited, I could feel as if my eyes were going to pop and my facial muscles shaking with excitement, over-smiling and holding my pose. But all in all, it was worth it!
[Cue to Soraya: In 5, 4, 3, 2, 1, and…] "Watch Glee on Jack TV. This is fun!" [Soraya holds her pose… and… cut!]
Click the image to launch the slideshow of all the action at Glee-Oke!
Posted by Soraya Peralta
More info:
Jack TV