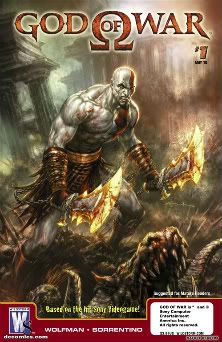 Kratos the God of War is a mean killing machine that will plow through hordes of monsters and even Gods just to get what he wants. But do we actually know how he became so hard assed? Well that's where DC's Wildstorm comes into play, the God of War comics is written by Marv Wolfman and features the life Kratos had which led to his inevitable battle with everything moving, be it God or monster. It's the back story we've all been waiting for and we've got a 5 page preview of issue number 1 after the break.
God of War comics is a 6-issue mini series that will rock our geek socks off, that is if we can put down the game long enough to read. issue 1 is already out so head on to your local comic book store before they run out.
MATURE READERS ONLY! Just click the image to launch the slideshow.
Can't read the text? Download the PDF version
here.
Posted by Jab Escutin
Source:
DC Comics