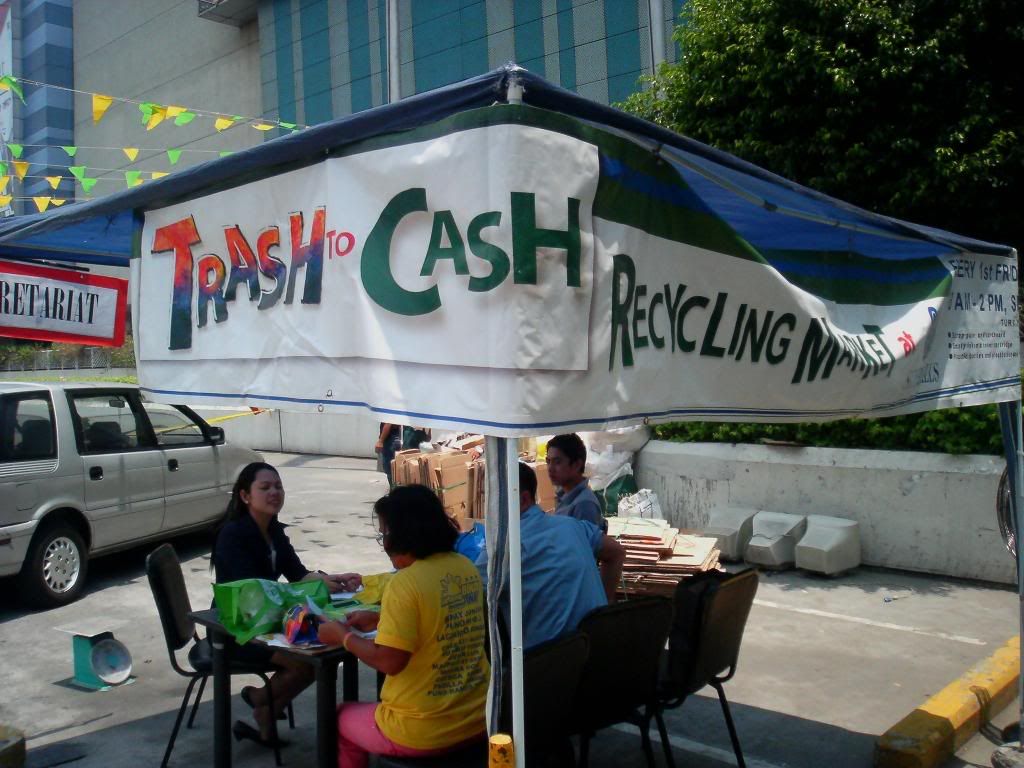 I'm sure most of us have trash lying around the house and if you're anything like me, most of it would actually be dead gadgets or appliances just waiting for the next garbage truck to pass by. I've had about 5 monitors that served me well and good, until they broke down and seemed irreparable. All of 'em sent to the garbage truck without hesitation. But recently I had two monitors break down which prompted me to buy AOC's LED Monitor, but instead of throwing the old monitors out I decided to keep them around until I find a better way of disposing them. And I'm glad I did because Megamall has what they call a recycling market that exchanges trash for cash. Check the break for a list of scraps they accept and recycle. It's good to earn while going green!
The Recycling Market is located at SM Megamall's Open Parking C, near the main entrance of building B. According to the brochure they're open every first Friday and Saturday of the month from 8:00am to 3:00pm which may change depending on holidays or any special events.
Here's their "Scrap Price List":
Note: Prices are subject to change without prior notice.
Soda Cans - 20.00PHP per kilo
Defective Electronics/ Appliances - 5.00PHP per kilo
Tin Cans - 2.00PHP per kilo
Cartons - 2.00PHP per kilo
White Paper - 5.00PHP per kilo
Colored Paper - 0.50PHP per kilo
Plastic Bottle - 8.00PHP per kilo
Scrap Metal - 5.00PHP per kilo
Newspaper - 3.00PHP per kilo
HP Ink Cartridge - Varies depending on model
When I passed by today I even saw a guy cashing in an old washing machine, so I guess they really meant it when they said electronics or appliances. I know it's not much but when you think about it the stuff you bring there is basically useless to you anyway right? At least you get a small amount back and you can be happy and proud of yourself for helping mother nature. So start checking out that pile of clutter you've been building up and itching to dispose of and start rolling in the cash and points for mother nature.
Posted by Jab Escutin
More info:
SM Megamall