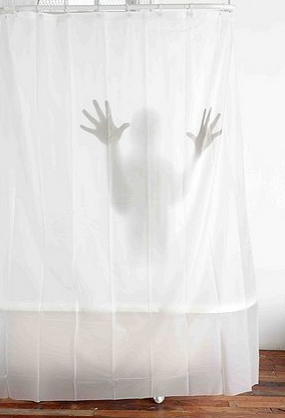 Does your sister take forever to shower? Do your room mates take a bath like they actually want their souls to be squeaky clean? Well here's something that might speed things up for you. This scary shower curtain would definitely be creepy enough to get those bath times down to a minimum. Only draw back is you might actually want to hurry up yourself. This sells for about USD 28.00 or about Php 1,200 around our shores although it looks like it's only available online. Check the break for more info.
Overview:
* EVA
* Hand wash
* Imported
* Includes 12 plastic hooks for hanging
* 71"l, 72"w
* Web exclusive

Description:
Get creeped out every time you go in the bathroom with this pee-your-pants scary shower curtain (good thing you're gonna bathe) - semi-opaque and topped with a shadowy figure screened at the front. Complete with hooks for hanging.
Posted by jab Escutin
Source:
UrbanOutfitters