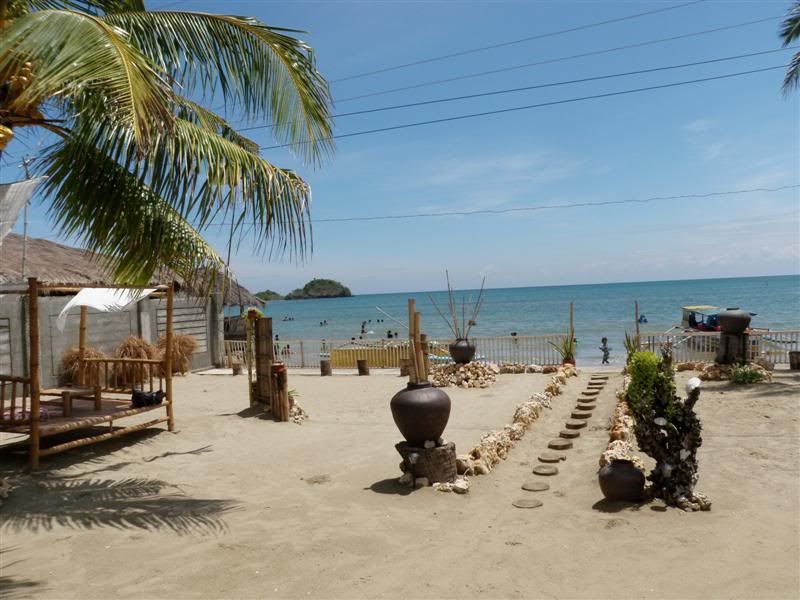 I'm not much of a travelling geek. Being addicted to the internet, I rarely travel farther than my wifi hotspot can reach. And if by any chance I do travel I make it a point to come back as soon as I can, or find a decent internet connection just to keep me from shaking at night. Having said that I can safely say I am not easily pleased with just any kind of resort or travel destination. Like most travelers I seek the balance of money, service, facilities and location. It's easy for a great beach or destination to score on all of those except for the money part, you can get all the great stuff but it'll cost you, most of the time a lot. Service doesn't come cheap these days and you also have corkage to worry about when you want to bring in your own food or drinks. So for all you travelling buffs out there that love the beach but can't spend an entire college fund, Bamboo Paraiso is the place for you!
Bamboo Paraiso is about 12 kms from Alaminos City, Pangasinan Philippines which is about 5 hours by bus from Manila. It's a beach front property which is minutes away from Hundred Islands National Park. Aside from the great views and powdery dark brownish sands Bamboo Paraiso offers budget travelers great service you won't find at that five star beach resort. Bamboo Paraiso takes care of all your requests given that it's reasonable enough to accomplish, and they do it all for free, you just have to pay for the requested item's cost of course. There's no service charge or any kind of fees, just good old service that lets you enjoy the place without worrying too much about your budget.
Totally squeezing that budget? You can bring your own food and drinks, corkage doesn't exist in Bamboo Paraiso (when we were there at least). Or you can order from their kitchen which is really affordable. They even helped setup our trip to Hundred Islands National Park which was great. You travel by boat for about 15 minutes and then you pick an island you want to visit and that's it.
Each Bamboo Hut can accommodate 4 persons max assuming that you don't mind sharing a bed. The owner Geraldo Lacuata really takes care of his guests and makes sure you have everything you need. Everybody is so friendly that they just want you to have a good time and relax. As you can see in the images Bamboo Paraiso has a great minimalistic design that let's you appreciate the view of the beach. As you can expect, almost everything is made of bamboo which is a great theme. So if you're still up for a couple of nights at the beach with a small budget Bamboo Paraiso is definitely the place for you.
For prices and reservations just go ahead and send them an email over at bambooparaiso@hotmail.com or just click the source link for their website. Oh! and tell them GeekPinoy sent you! Who knows, they might even give you a discount.
Posted by Jab Escutin
Source:
Bamboo Paraiso