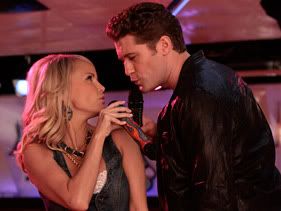 From the performance packed tribute to Madonna episode, comes a heartwarming emotion filled episode that is "Home." The characters get in touch with their emotional side and fight different issues. Plus, the character of "Becky" is slowly building up, which is great as the show is open to special children as well. For more about this episode, read through this Glee Episode Review!
Spoiler Alert Spoiler Alert Spoiler Alert Spoiler Alert Spoiler Alert Spoiler Alert
As Kurt and Mercedes continue to become a member of the "in" club which is the Cheerios, Sue pressured them to lose weight so that they'll look better. Kurt is definitely not ready to give up being in the "in" club so he pressures Mercedes more. Now this poor girl is starving herself and woof! Fainted!
Meanwhile, Kurt's unending crush with Finn went to a higher level. He set up a meeting of his dad and Finn's mom in one of the parents' night. His purpose is that if their parents would hit it off, then he and Finn would be living together too! That's quite an idea, I should say. Although what he missed though is that his dad and Finn share the same interest – SPORTS! Kurt is a son of a former football player. Quite a toughie if you see him. And Kurt could not relate with him of course as Kurt is interested in other things. So now, Kurt's dilemma is that he's slowly getting left out. With his dad and Finn sharing the same interest, he feels he could not get his dad's attention anymore.
On the other hand, Finn is still not over his dad and he's a little apprehensive that his mom is dating again. Kurt's assured Finn that he'll never be able to replace his dad. But he loves Finn's mother so much and that he'll be there to take care of them.
Now, will found April again, managing a roller skates place. Very 80's ambiance but cute! April is a mistress of a wealthy businessman who is keeping her alive by providing her the dough. And to earn extra, she was given the roller place. Will is looking for a place or a new "home" for the Glee as Sue blocked off the auditorium for the Cheerios. April told him to bring the Glee to the roller place to practice.
Will is still going through his divorce and he's looking to sell his place. April is of course interested, first that Will is single and free to "mingle" – by mingle, I mean sleep and have sex with people – and second with his place. So she invited herself over for a slumber party in his place. She slept on the couch. She started to sing a mash up of "A House Is Not A Home" and "One Less Bell To Answer" that ended up as a duet with Will, reflecting both their heartaches and pains. They didn't do the deed, but shared the same emotions.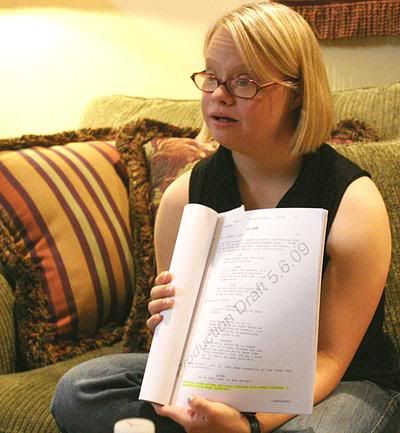 Meanwhile, Becky, the child with down syndrome who is a part of the Cheerios, is slowly building up her character. She's seen more often now and has speaking lines. I actually admire this as the children with special abilities are not left out. They actually need that feeling that they belong. Inclusion is still the way to go for the special children. The background on Becky is that Sue accepted her because she had a sister with down syndrome as well.
Quinn helped Mercedes and talked some sense into her that starving herself will not really do any good for her. Mercedes stood up in the pep rally and sang "Beautiful" to show her feelings about the way she looks. Everyone was impressed and joined the song. Sue was actually clueless. She was trying to set her best foot forward as a magazine writer was there to observe her and make a story. Now, she didn't know what to expect or to do anymore. But of course, things would turn out in favor of Sue. During her meeting with the writer, the writer said that his first impression with Sue was that she was a bossy and racist. But he was impressed with the turn out of the pep rally. Sue was speechless. She was given praises that she didn't really deserve. Her face looked a little guilty. It's good to know that some things get through Sue's strong personality.
Will didn't want to make a habit of "sleeping" with April. He talked to her and gave her some advice. Then April returned again and gave Will good news – that she is now on her way to cleaning her act up and be sober. Her boyfriend died and the wife left her a shining 2 million dollars to shut her up. She of course accepted and her first purchase? Mc Kinley High's Auditorium which is now called: April Rhodes Civic Pavilion. Glee is now back to their Home.
The Songs:
• Fire – a Bruce Springsteen original. Duet between April and Will in the roller place. They really have this cute chemistry when they sing.
• A House Is Not A Home – a Burt Bacharach original. Sang by Kurt in one of the Glee sessions, looking over at Finn, asking him to love… him!
• One Less Bell To Answer / A House Is Not A Home – both by Burt Bacharach. This mash up was sung as a duet by April and Will, showcasing their pains and feelings.
• Beautiful – a Christina Aguilera original. Mercedes sang beautifully, expressing her feeling about the way she looks and stood up for herself that she looks great! High five!
• Home – a Diana Ross original. April gave a powerful performance, yet again! Wearing a glamorous outfit, accentuated with shining, shimmering neck piece, she was a diva!
Click here for more of Becky in Glee.
Posted by Soraya Peralta
More info:
Glee on Jack TV