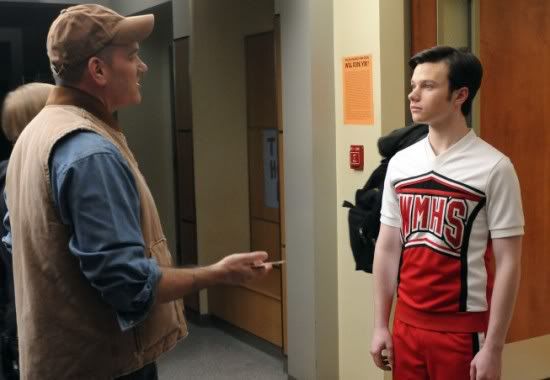 Welcome to another Glee Episode Review!
Some firsts for our fave Glee characters were introduced in this episode. Another episode where our characters struggle with their own dilemmas and we just can't get enough of them! In this Glee Episode Review, I'll guide you through this interesting chaos created by none other than, the kids themselves!
Come and join me! It'll be juicy!
SPOILER ALERT!!! SPOILER ALERT!!! SPOILER ALERT!!! SPOILER ALERT!!!
Okay… Noah Puckerman or most commonly known as "Puck" is really cute with his bad boy attitude. He's the hunk you'd love to have a date with for a night. People suddenly lost their interest in him. Why? Simply because he shaved his Mohawk! Yes gleeks, those hair in the middle portion of his well proportioned head… all gone! The "nerds" headed by Jacob Ben Israel (Josh Sussman), told Puck that they're no longer afraid of him. Now that the mohawk's gone, Puck is just an ordinary student. And guess what, the nerds even threw him in the dump! He still looked cute though, lying on all those trash. Eeeewwww…..
Now puck is determined to get his reputation back. And what better way, than to date a Cheerios. And who? Read this: MERCEDES JONES! Oh folks, it doesn't end there…
Meanwhile, Rachel devised a way to expose those glee members who don't take their part in practicing for the Regionals. With the help of another student, a mic was placed to secretly record one of their sessions. And surprise! It was only Rachel's voice there! Others were just lip-syncing. Now Rachel is tired of carrying their load and was up for getting the group to participate. Very clever of you, Rachel! Clap! Clap!
Remember Kurt's dilemma of losing his father? Well, same dilemma appears in this episode of Glee. Mr. Hummel (played by a very good actor and comedian, Mike O'Malley) went to school to pick up, not Kurt, but Finn! Insecurities rise up for our dear Kurt. His father simply put it that Kurt was not interested with the game anyway and promised him that they'll have their own time together.
Glee's assignment for this week is to sing a song that would best express their personalities, feelings and thoughts. Of course, Rachel was at it again to sing first. However, something's wrong… she lost her voice and could not give justice to Miley Cyrus' "The Climb." Mr. Schuester had to stop her from embarrassing herself. Poor Rachel. Everybody has their own off day. But bravo for still trying. Very professional!
Still looking for more juicy details? This Glee Episode Review is not yet done! Read on!
Kurt missed out on one of the Cheerios practice and Sue is not happy. She talked to him along the corridors. Kurt said he was very upset and could not practice. Sue was surprised and told him she is deeply allergic to absences during practice. However, she also showed her good side and gave some good advice to Kurt. She said: "The problem with your generation is that you're so obsessed with labels." Her point is so what if Kurt is interested with other things and he's soft? That doesn't make him gay. Sue always amazes me with her perspective. Now Kurt got an idea of changing his sexuality so that he can relate with his father.
Finn sang Rick Springfield's "Jesse's Girl" and dedicated to Rachel of course. He accompanied her to the hospital when she had to have her tonsils checked. He kept on showing her that he'll be there for her anytime. But Rachel that she might lose her voice forever. We all know how she loves to perform and her end goal is rally to become a star. So I could just imagine how terrified she was if her tonsils had to be taken out.
Then Finn brought her to his old friend Shawn from football camp. His purpose was to show some faith to Rachel that when things don't go her way, that life would still go on. Shawn was at the peak of his career as a football player, when he had bad landing and injured his spine. Now he's in bed and undergoing therapy to get his strength back. Rachel was amazed at his fighting spirit because he was still there and ready to throw out some humor.
Here goes… Mercedes and Puck are now starting to be an item!!! Mercedes is quite hesitant to date Puck because she knows him too well to fall for his acts. Oh but Puck can surely sweep girls off. He showers her with his attention. And as expected, his rep is slowly going back up again. The nerds are afraid of him and he started to bully them again. Puck's other girls – Quinn and Santana – were both upset, but Santana is very upset because she was replaced by one of those she used to bully before.
Kurt now wore some manly clothes, which, to my standards were too sloppy for Kurt. I was used to seeing him very fashionable. But this time, he looked like he was going fishing for some trout. He sang in a husky tone, with some southern accent. The glee was not quite impressed though and Mr. Schue thought that Kurt didn't understand what the purpose of the assignment was. But Kurt was still stubborn and continued his attitude. Britt approached him, apparently, she was the only one who was impressed and she even found him sexy. The next thing I realized was they were making out in Kurt's room! Yes gleeks, Kurt and Britt… making out! They were actually caught by Mr. Hummel. Kurt just explained that he found his new "self." His ever supportive dad, just told him that he can be whatever he wants to be as long as that's really his choice. Wow… to the dads of the modern era, we salute you! Happy Father's day in advance! Britt is one heck of a character too. She may have a few lines but her lines leave a mark after the scene. In this scene, Kurt's dad reminds them that if things get hot that they should use protection. Britt replies to Kurt: "as in like a burglar alarm?" I was laughing the whole time! I mean with her looks and body, then she innocently drops off that line, that was a super! A good way to break the ice, actually. Way to go Britt!
Now, going back to this Glee Episode Review.
Mercedes and Santana had a two-thumbs up rendition of Brandy and Monica's "The Boy Is Mine." It was really great and Santana can really sing. I find her hot and sexy and she moves well too. And then Mercedes had her own way and the powerful voice of course! It was really great!
Puck started to throw the nerds into dumpster again. It was funny because they all waited in line, and have their chance to be thrown. But Mercedes was not really happy with it. She told Puck that she quit to be in the cheerios because she doesn't feel like its her personality.
Mr. Hummel picked up Finn again for another game. Kurt is now very disappointed and sang "Rose's Turn" from "Gypsy: A Musical Fable." A very powerful song about being left behind and staying strong for whatever life may bring. Mr. Hummel found himself watching Kurt sing in the auditorium or should I say in the April Rhodes Civic Pavillion. He cancelled his schedule with Finn and told Kurt that he really cares for him because Kurt is his son.
Meanwhile, Rachel went back to Shawn's house and thanked him for his "words." They sang together U2's song "One" which of course was a great song especially for the theme of this episode. The song is about caring for your life because it's the only one you have. Perfect for Shawn and the other cast since each one had their own struggles. The show ended with Rachel and Shawn finishing the song and a very dramatic one teardrop on Rachel's cheek.
Posted by Soraya Peralta
More Info: Glee on JackTV