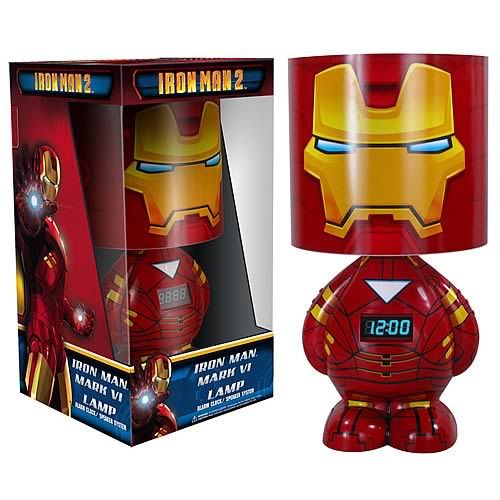 So you watched Iron Man 2 and you can't get over the awesomeness of a guy wearing sheet metal that blasts laser beams all over the place. Not to mention all the flying. Now you pledge your geek allegiance to Iron man and are bound to buy stuff made in his image. If that's the only way to stay sane and If you have USD 50.00 lying around doing nothing, you might want to pick this Iron Man 2 Lamp-slash-MP3 Dock-slash-Clock. It's got everything you need except for all the flying and laser zapping you always wanted. But you can tell time and that's all that matters. Right?
Here's a few lines from the product page.
Star Wars Iron Man 2 Lamp Clock and MP3 Dock:
Tony Stark knows what time it is!
Iron Man lamp, MP3 player, and alarm clock!
Never be late to another Stark Expo again!
This Iron Man 2 Iron Man lamp/alarm clock, and speaker output for MP3 players combines the best of everything! Iron Man features an extra large urban style Nodnik body-type with a LED digital clock on his chest. This clock and lamp also serves as a fully functioning speaker for your MP3 player! Simply plug into the Iron Man to hear your music play!
Posted by Jab Escutin
Source:
Entertainment Earth