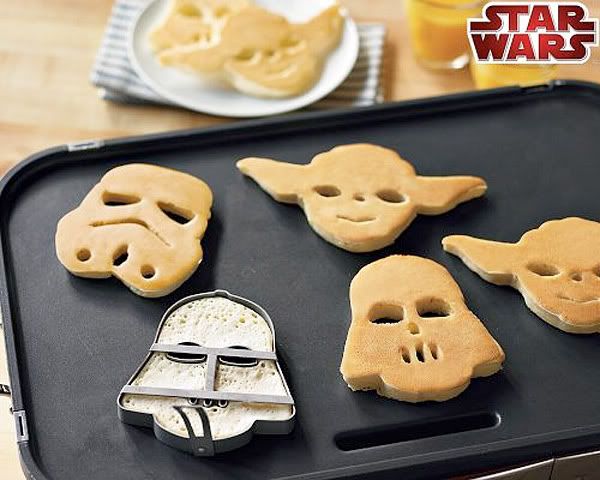 You will never be a Star Wars geek until you've had pancakes molded in the image of Yoda. And while you're at it why not go ahead and devour Darth Vader's head or drown that Stormtrooper in your favorite syrup. These Star Wars pancake molds will complete that lame breakfast you always have with simple instructions and a little guidance from the force your breakfast will surely be the envy of your geek friends. Assuming they have time to go out of their Mom's basement. Check the break for more details and one more shot.
Williams-Sonoma are selling these for USD 19.95 which is around PHP 1,000 where I eat breakfast. you can order online or probably wait for somebody to make a local version. Here's a clip from the product page:
Star Wars™ Pancake Molds
A long time ago in a galaxy far, far away, a Jedi Kitchen Master created an epic breakfast to unleash the power of his Jedi Padawan. Using the Force™, he created three nonstick steel pancake molds in honor of his favorite galactic heroes and villains: Yoda™, Darth Vader™ and a stormtrooper™. Our Star Wars molds couldn't be easier to use. Just place them with their handles up on a preheated griddle then pour in your batter. After the first side has set, remove the molds and flip the pancakes. Serve a stack drenched in your favorite syrup – and let the adventures begin. Hand-wash. 4 1/2" to 7 3/4" wide. Fold-down handles. Set of three.
Posted by Jab Escutin
Source:
Williams-Sonoma