Here's your chance to score a free movie pass to Twilight Saga: Eclipse. All you need is a little patience to dial a phone number and an Ayala Malls Acard. Oh, and you need to be close to an Ayala Mall but then again who isn't right? If you live in the Philippines that is. I know a lot of girls and probably guys would want to see this movie just to see Edward and Jacob bite the living day lights out of that evil vampire army we always see in the trailers. Not to mention poor helpless Bella who's still not a vampire by the way. Check the break for all the little details and the poster that's too small too read.
Just click the image to get a closer look. Not that it will help, but hey at least you tried right. Just go ahead and read the instructions I laid out for you.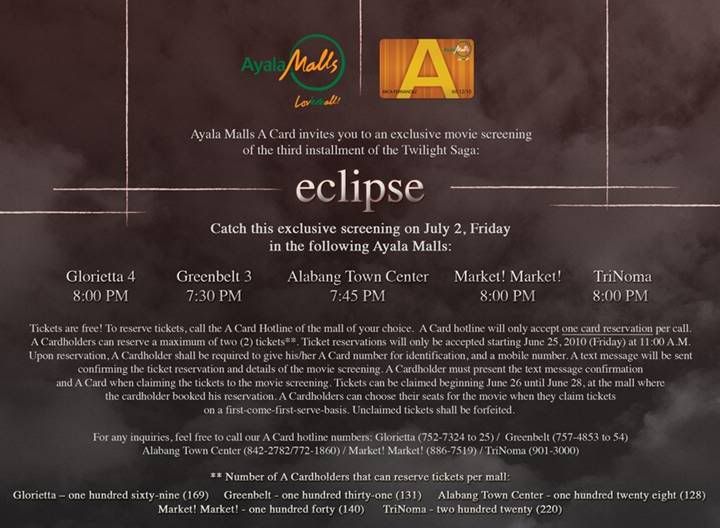 Screening Date is on July 2, 2010 with a couple of minutes difference from each Ayala Mall Cinema.
- Glorietta 4 = 8:00PM
- Greenbelt 3 = 7:30PM
- Alabang Town Center = 7:45PM
- Market! Market! = 8:00PM
- TriNoma = 8:00PM
Tickets are totally free because you have an Acard. Great thing is you can also bring 1 friend along.
Next thing you have to do is have your Acard number ready and call your mall of choice at 11:00AM on June 25, 2010. You have to call as early as you can because seats are very limited and you really don't want to lose your chance to get a freebie like this. Here's the numbers you need to call.
- Glorietta 4 = 752 - 7324 to 25
- Greenbelt 3 = 757 - 4853 to 54
- Alabang Town Center = 842 - 2782 or 772 - 1860
- Market! Market! = 886 - 7519
- TriNoma = 901 - 3000
When you confirm your reservation all you have to do is go to the mall starting June 26 until June 28 and choose your seat and claim your movie ticket. Bear in mind that unclaimed tickets will be forfeited. So start practicing dialing those numbers because I'm sure you'll need to dial a couple of times before you get through.
Posted by Jab Escutin
More info:
Ayala Malls Acard