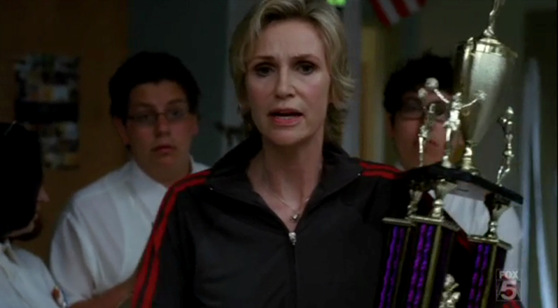 The Regionals is coming up and the tension is rising as the two groups – Mc Kinley High's New Directions and Carmel High's Vocal Adrenaline – are both in full swing with their rehearsals. But are the mind games and dirty tricks necessary to scare your rival? Join me in this Glee Episode Review as we find out what the two groups are cooking up for the Regionals!
SPOILER ALERT!!! SPOILER ALERT!!! SPOILER ALERT!!!
What's up?
Just when the kids have enough confidence to perform, their hopes were crushed when Vocal Adrenaline surprised them with a complete performance of Queen's "Another One Bites The Dust," in their own auditorium, to give them a feel of what's in store for the Regionals. Word got out that New Directions has a better chance of winning. But what happened was, New Directions got sooooo depressed.
The choir room was trashed, and we all know who did it, Sue suddenly storms in together with the drafting class. Yes, Sue is back! Feisty as ever, carrying her trophy, planning to have the choir room turned to another trophy rack. That's after she confidently told them that they'll lose at the Regionals. This would be like rubbing in Will's face that he's a loser. But Will refuses to get bullied and threw the trophy! Oh don't rejoice yet Sue as you're about to get…. Just keep reading!
Mean tricks
Meanwhile, the whole group is frustrated and furious and Rachel is confused on why Jesse is back with his old school. Probably because his task of getting Rachel close to Shelby, his choir coach, is finished. But he said he liked Rachel too and he doesn't want to hurt her. Quite confusing there.
As revenge, hottie Puck and cutie Finn messed up the tires of the Vocal Adrenaline's Range Rovers. As a result, they were invited to the Principal's Office and were almost expelled. Thanks to Shelby's kindness, she said she won't press charges as long as the damages are paid for.
Rachel got a call from Jesse, asking her to meet him in the car park. Rachel ran to him in slow-motion, only to find out that it was all a trick. The whole Vocal Adrenaline was there to cast an egg at her. And the last one to cast an egg was Jesse. All he said was "I loved you." Then crushed the egg right on Rachel's forehead. Poor Rachel, drenched in egg yolk.
The boys work
To settle the dispute, the boys offered to work and have the payment in a month. Shelby agreed. So now, the boys are working at Sheets and Things, where Terri, Will's ex-wife, works. She was patiently teaching them how to fold the linens when Sandy (creepy Sandy), was shopping for his Jane Mansfield bathroom. He was so annoying that he even asked for a Kenny G. music to play on the background while he was shopping. Puck played Beck's "Loser" and was very nice! It was like an MTV clip. Next, Terri offers to help Finn with his funk assignment with statements like: "You could be my second chance." What???
This week's assignment and the performances
A funk number! As Will stated, funk is a combination of soul and anger and the emotion that wraps the whole song shows the singer's passion. Much to everyone's surprise, Quinn was up for the task and even volunteered to go first. Mercedes kind of mocked her. But Quinn told her that she's full of anger. So, together with the "Unwed Mothership Connection," she sang "It's a Man's Man's Man's World" by James Brown. The preggy moms danced gracefully and Quinn sang quite nice too! The whole group was moved and felt for her.
Schue danced for Sue! Yes Gleeks, he did! It was "Tell Me Something Good" by Rufus and it was one hot sexy dance! Will's purpose was to lead her on and give her a taste of her own medicine. He gave her a tub of protein shake too and even invited her to dinner. But he stood her up.
Hottie and Cutie together with Mercedes sang "Good Vibrations" by Marky Mark and the Funky Bunch. But Will said it wasn't really a funk song. On no! they're so depressed, they don't even choose the right songs anymore.
On pent-up emotions and backfires
Will was so furious with Sue from all of her bullying and meddling. So he gave her a piece of cruelty. But it backfired because Sue refused to get out of bed and the Nationals are coming up. The girls of the Cheerios were all disoriented as some of them might lose their scholarships. Will, being the good one, talked to Sue in her house, filled with loads and loads of trophies. He convinced her to go back to work for her kids and do what she thinks is important to her.
Another backfire was with Mercedes. After she saw Quinn's performance, she was moved too and felt really bad for the way she treated her. As an apology, she offered that Quinn would stay with her since her brother had to go to college. That was really nice of you, Mercedes.
Well, Will didn't really succeed in being cruel. Another backfire was that Sue won her 6th title and still had the trophy in a bulletproof glass rack that was fully lit. "Loser" was playing on the background again.
New Directions: Funk
Vocal Adrenaline could not really pull-off a funk number. To keep up the with chat forums' prediction, they did a superb number of "Give Up the Funk" by Parliament which was quite nice. Everyone had their chance to be seen.
I really had a fun time watching this episode! But wait, is it true? Season one is coming to an end? Watch out for Glee on Jack TV at 8:00 pm and on ETC at 10:00 pm.
Enjoy Gleeks!
Posted by Soraya Peralta
More info:
Glee on Jack TV