Korea is really stepping it up when it comes to gaming. Gaming is so big there that even their airlines are getting into it. As we all know Starcraft is a major success over at Korea with gamers playing the original Starcraft until today, and I don't mean casual gaming it's all hardcore non-stop Starcraft gaming mind you. I guess Korean Air knows how big of a market gamers are over there and the best way to attract them is to design a plane in the image of their favorite game. Hence forth the Starcraft 2 themed plane complete with TV ads and press conference footage after the break.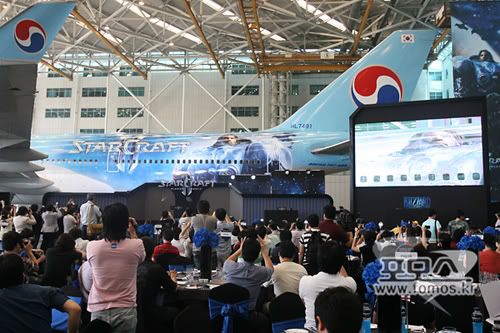 The TV ads look great with each race having their own ad. Check 'em out!
Here's one of the advantages of being a Protoss.
Hydralisk beside you on a flight? Why not!
I guess air traffic control wasn't prepared for the awesome Terran Drop Ship.
Posted by Jab Escutin
Source:
Fomos
and
Wakpo