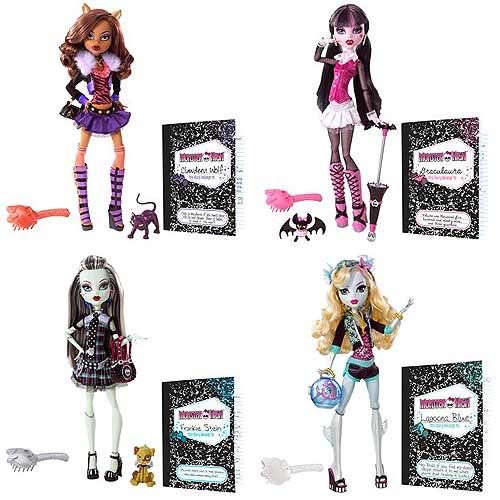 With all the vampires winning the hearts of young girls and sometimes even boys around the world it's no wonder toy maker Mattel is planning to release it's very own monster themed doll collection. Appropriately named Monster High these little girls are the most stylish bunch of the night, not to mention weirdest names to boot. Draculaura, Clawdeen Wolf, Frankie Stein and Lagoona Blue would definitely find it's way to a Twilight fan's heart. I just hope this phase quickly runs it's course because I really don't want to see real live girls going all gothic and running around screaming at the sight of Edward or Jacob. The set would set you back USD 110.00 which is around PHP 5000.00 when it hits our shores around August. Can we get a zombie Barbie to go with these please?
The children of famous monsters have their own, trendy style!
Each doll includes the character-specific pet!
Accesories and doll stand included!


Draculaura, Clawdeen Wolf, Frankie Stein and Lagoona Blue are the coolest ghouls in school with their trendy fashions, accessories and scary cute pets! And they have some very famous scary cool parents as well! Draculaura is the daughter of Dracula, Clawdeen Wolf is the daughter of the Werewolf, Frankie Stein is the daughter of Frankenstein and Lagoona Blue is the daughter of the Sea Monster. Dolls are fully articulated so they can be posed in many different ways! Includes 1 doll, pet, accessory, diary, brush, and doll stand. For ages 6 and over.
Posted by Jab Escutin
Source:
Entertainment Earth