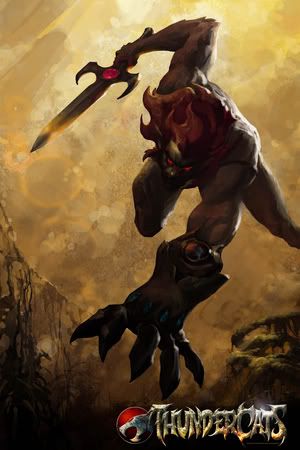 Thundercats is making a come back and I'm sure any adult that had the pleasure of watching Lion-O wield his mighty sword will have a kick of nostalgia. Warner Bros. in cooperation with Bandai will reboot the series with an all-new animated series with a new and modern toy line. I know kids today won't have a clue on how awesome these humanoid cats are so here's a clip from our source.
Debuting in 1985, the ThunderCats roared onto the broadcast air waves and created feline frenzy with their band of cat-like heroes from the planet Thundera. Behind their fearless leader Lion-O, the ThunderCats strove to protect their new home on Third Earth and their headquarters, Cat's Lair, from the Mutants of Plunn-Darr. The ThunderCats pop culture phenomenon had its paws sunk deeply not only in television, but also toylines, apparel and comic books. Twenty-five years later, through the Warner Bros. Consumer Products and Bandai America collaboration, the beloved brand is poised to make a new audience of kids feel the magic and hear the roar once again.
I really can't wait for this series to start but unfortunately we'll have to wait a while because everything's planned with a 2011 release.
Posted by Jab Escutin
Source:
ToyNewsi