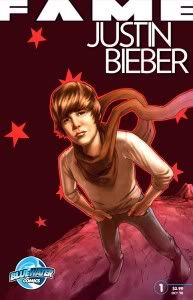 With everybody singing his tunes and screaming his name Justin Bieber is probably one of the most successful talents to branch out of YouTube along side our very own Charice Pempengco of course. But it seems like Justin Bieber is going to 1up Charice with his very own comic book to be released this October entitled "Fame". Here's a clip of what it's about:
"Like The Beatles, Justin Bieber started life in simple public housing, and also like The Beatles, he is forced to balance fame with his humble beginnings as he comes of age with the whole world screaming his name. Fame: Justin Bieber traces the career of this Youtube sensation from his musical childhood in Ontario to the stage of his first headlining tour."
I was actually hoping the comic book would involve zombies or aliens ripping his heart out but I guess we'll just have to wait for a better comic book writer to come along and save the day.
Posted by Jab Escutin
Source:
Newsarama