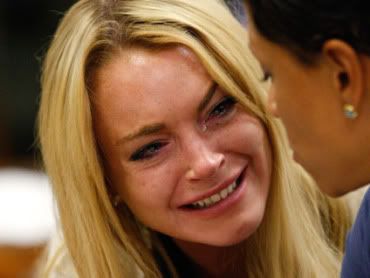 Lindsay in uncontrollable tears, talking to her lawyer and pleading for mercy after Judge Marsha Ravel sentenced her to 90 days in jail, starting 20th of July, over at the court in Beverly Hills, CA.
LL was stunned with the decision and pleads that the court be a little lenient with her. To her defense, her lawyer Shawn Chapman Holley agrees with her that the decision was quite too much. However, she was reported to quit the case and the Lohans are now in the process of interviewing potential lawyers that would represent her in November.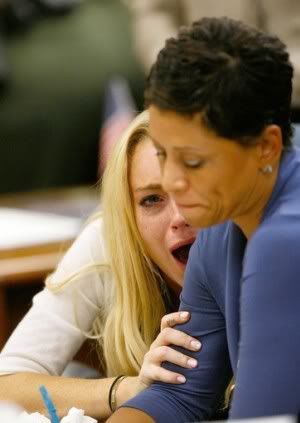 Good friend Kim Kardashian offered her a shoulder to cry on as she went to visit LL with a bag of Chinese food. Comfort food is probably what she'll get for now.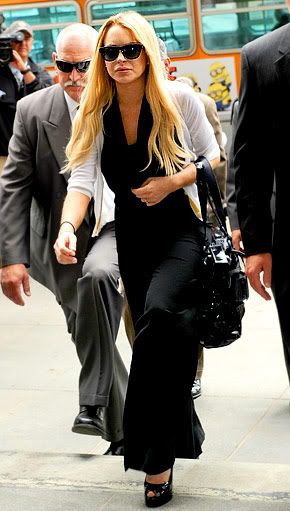 In this whole day affair, LL was seen in three different outfits. First was in all black, then accentuated her look with a jacket and some accessories after recess then after lunch she totally gave a new look with this cowl neck blouse and white cardi.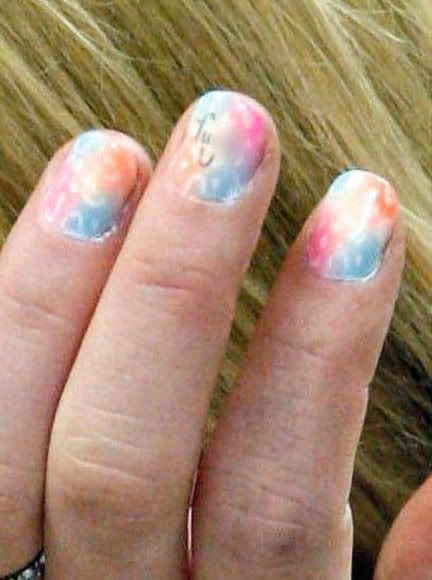 Aside from all of these courtroom dramas, people also fuzzed about the statement she made on her nails. Amid the colorful nail design, was "F*ck Y**" and on the middle finger, nonetheless.
Lindsay has been under the noses of the California government after she had those DUI cases, missed her alcohol education classes – which kinda got her into this predicament – and the ankle alcohol monitor that mysteriously went dead after the MTV Movie Awards. Now, the court is not taking it low on her anymore.
I've watched and remembered LL as the cute girl, trying to get her parents back in the movie The Parent Trap. Then she starred in the peer pressure movie Mean Girls. After that, I found her in some shows and events including Nickolodeon. She really is in a dark dump right now. But who knows? She might not even finish her sentence and she'd be out again. Hopefully staying out of trouble that time. Just look at fellow BFF Paris Hilton who's actually been doing quite well after she got out. Hang on tight LL!
Posted by Soraya Peralta
Source:
MSNBC