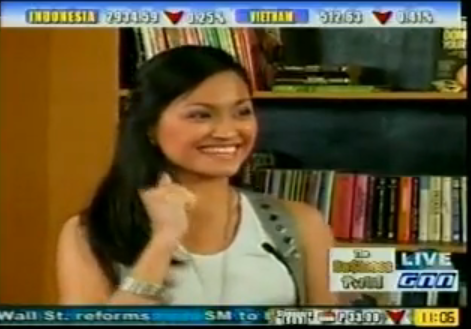 Not so long ago, Geek Pinoy was conceptualized over a meal right after some movie we don't even remember, in celebration of some occasion. Little did we know that Geek Pinoy would be born that night. Then, being seven months in existence in the blogosphere, it has been pretty exciting. With all the events and conventions we got to join, articles we wrote and people we met. Now, we just had our very first TV appearance! Woohoo!
Thanks to the iBlog summit last April, we got to meet Vince and Hannah of Tek Tok TV. After some exchange of emails and a little rescheduling, we got to be featured on their show.
It was a pretty cool experience, actually. My "guide," Jab, was giving me last minute reminders on what to say, while I was checking on myself and getting to a zen place so as to avoid some untimely fainting spells. Jab is the keep-it-to-me kind of guy so he just made me do the whole thing.
Gadgets, check! All information in my brain, check! Outfit, check! Was I ready… hmm… more like fidgeting and hiding it by fanning myself. The good thing is, when I was on the set, Vince and Hannah were actually nice and the whole show was more like just conversing with each other. I was actually enjoying! It was really great!
Now, I'd like to say my thank yous to the people:
1.) Vince Golangco of WhenInManila.com and Hannah Villasis of FlairCandy.com, for inviting us and for being actually interested with Geek Pinoy.
2.) Jab for always being there to catch me. You rock!
3.) And to all the geeks who took time off from work and watched from the office owned TV in the pantry and in the comfort of their homes, you all are sweet!
4.) To the readers of Geek Pinoy who are just soooooooo cool!
Posted by Soraya Peralta
More info:
TekTokTV