Hey Hey Hey Gleeks! Glee season 2 is here and our painful anticipation paid off as our very own
Charice Pempengco
performed… or should I say… Kicked-Ass!!!
I couldn't contain my excitement when I saw Charice's name flashed on screen. Now, new season, new cast and interesting stories! But wait! Where's Ms. Emma Pillsbury? My trusty, cute and supportive boyfriend noticed Ms. Pillsbury (Jayma Mays) didn't appear in the episode. Don't worry guys! We'll see her pretty soon and I bet we'll be surprised with her outfits and the character she'll be playing opposite with… John Stamos! I got it from the grapevine that John Stamos will be Ms. Pillsbury's boyfriend! I'm anticipating again! Anyway, more on this episode after the break!
SPOILER ALERT!!! SPOILER ALERT!!! SPOILER ALERT!!!
Meanwhile, the new football coach, Shannon Beiste – pronounced as "beast," she said it's French – played by Dot-Marie Jones who stands 6ft. 1in. tall did very well in leading the boys. And I actually like the tension that's building up between Sue Sylvester (Jane Lynch) and Coach Beiste. Sue even got Will Schuester (Matthew Morrison) to team up with her until, of course, Will's conscience kicked in and apologized to Coach Beiste.
Then (as Sue Sylvester would put it) the Asian, Tina Cohen-Chang (Jenna Ushkowitz) and the other Asian, Mike Chang (Harry Shum Jr.) are dating, leaving Artie (Kevin McHale) peeping in jealousy. And what about Santana (Naya Rivera)? Well, noticed something new? She got a boob job! Which demoted her to the bottom of the pyramid, being replaced by Quinn (Diana Argon) as the head cheerleader. Yes gleeks, Quinn is back as the head of the cheerios!
Now, it seems that Rachel Berry (Lea Michele) is up again to leading the group, backing up Will's idea to recruit more members and finally defeat Vocal Adrenaline in this year's regionals in New York! The group sang "Empire State of Mind" in the midst of all the students, in the effort to get their attention and join the Glee Club. Finn (Cory Monteith), noticed the new boy Sam Evans (Will Chord) discreetly thumping his feet to the beat and of course a glimpse of Sunshine Corazon (Charice Pempengco, but was only introduced as Charice).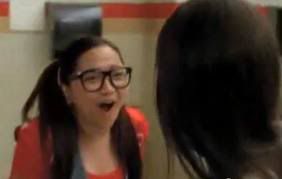 Finn later noticed that Sam does sing pretty well and invited him to jam with the other guys. While Rachel came across Sunshine in the girls' restroom and invited her to be one of the "chorus" who "will sing and stare at Rachel as she sings her solos." Sunshine accepted the offer. Then she did an impromptu and sang "Telephone." Rachel was surprised but sang with her and then told her to hold off with the audition. Oooooh! Rachel felt a little bit of a sting there…
Just like any average ambitious b*tches out there, trying to keep their spotlight on, Rachel tricks Sunshine to some disturbing area for a fake audition. The whole group was miffed and so they gave Sunshine her fair chance. Our sweet and cute Charice sang "Listen" from the Dream Girls movie and I'd say she really did pretty well! Pretty well that I was clapping and rooting in the living room! I'm so so so proud! Or did I say that already? However, since Will backed down on Sue's plan against Beiste, Sue and her evil mind called Vocal Adrenaline and they pirated Sunshine right away, giving her and her mom a condo and a Green Card! Whoa! That's very… well… really tempting right?
The episode ended with Rachel singing "What I Did For Love," explaining that she did all that to protect her less-fortunate-on-solos members and finally faced the whole group. Then lights out.
I still like the effect of the school bell in the end of every scene. Like its emphasizing the tension. The songs were ok for this episode. It was quite balanced as the new characters were introduced, they had to build their personalities and the songs were subdued but still classy.
Oh and I got a couple more from the grapevine for you. 1, It was said that Episode 2 will feature Britney Spears songs. Ooooooooohhh! Baby hit me one more time! For real? And 2, that Sam Evans will later play as Kurt's love interest. Yey! Can't wait for that!
Till next time Gleeks! Still can't get over the fact that a Pinay is in my fave show! You rock, Charice!
Posted by Soraya Peralta