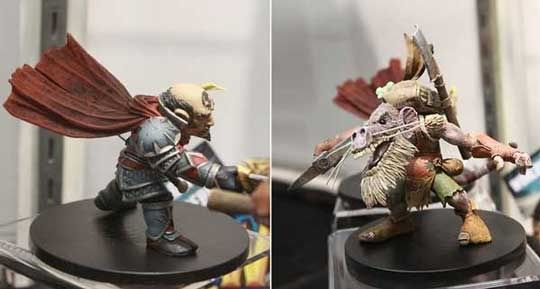 DC Unltd's World of Warcraft Action Figures seem to get better and better with each new series and series 8 is no exception as we have whole new classes and races coming into action figure form. If you check on DC Unltd's World of Warcraft Action Figure Site as of this posting they have series 8 listed but no images yet. I'm sure they're working real hard to bring us great images of the new figures. World of Warcraft Action Figure series 8 will have a 2-pack figure featuring the Gnome Rogue: Brink Spannercrank Vs. K Miner: Snaggle which is pictured above. It will also have the Argent Nemesis: The Black Knight which we have pictured after the break. I really can't wait to get my hands on these guys too but unfortunately we have a long way to go as these guys are set to be released around May 2011 plus the usual delays so I'm guessing it would be a while before we see this anywhere near a retailer. We're still waiting for
Series 6
to grace us with their presence and we're already losing our minds over series 8! Not to mention
Premium Series 4 and Starcraft!
While you're in the mood for
Warcraft Action Figures
, why not check out our
latest review of each figure
to date.
The DC Unltd's Warcraft Action Figure site also lists the
Forsaken Priestess: Confessor Dhalia
on this set but right now we really can't find any decent image, so if you guys know where to find one please hit it up at the comments. We promise to give you all the credit.
Thanks to
JusticeBlade
of PTK Forums for the heads up! We would've missed this if you didn't tip us off!
Update:
added image of the whole set with Forsaken Priestess: Confessor Dhalia, it's kind of low res but it's the best one we can find. Thanks to
ElrithCC
!
Posted by Jab Escutin
Source:
Figures.com
and
DC Unltd