We all know gadgets are expensive and sometimes we need to find great deals just to make sure we have enough cash to last for the next big thing. Lucky for us the internet is full of great deals and all we have to do is take a couple of minutes to see what's available online. There are a lot of great buy and sell sites around the world with great prices and bargains but shipping and taxes will eventually blow up to the point where we can't afford anything. That's where local buy and sell site AyosDito.ph comes in, everything you need from
cheap laptops
to your next house is in the marketplace and up for grabs. I've been itching to buy a Macbook Air just so I have a thin and lite laptop I can haul around while traveling, go ahead and check the break to see what I found in the AyosDito marketplace.
The site is pretty straight forward and with a simple search for "Apple Macbook Air" I got these very interesting results. Notice the great price on one of the items I obviously marked. Not bad for something that used to be around Php 60k+ right? I know it's a 1st gen Macbook Air but the price tag is really hard to ignore for something like this. Now all we have to do is click a link for us to contact the advertiser and see if we can negotiate the price.
(Click for a closer look)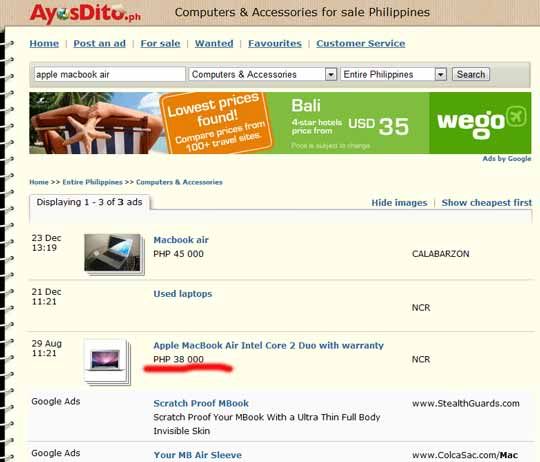 If you have a lot of stuff lying around you might want to post your very own ad and who knows you might even turn all those clutter into a pile of cash.
Posted by Jab Escutin
Source:
AyosDito.ph