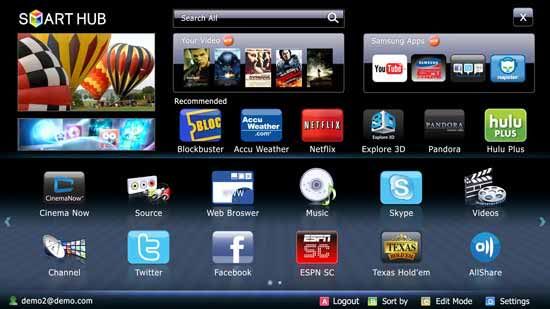 Ever since I laid my eyes on Samsung's newest and greatest
Smart TV
I've been getting ideas on what to actually use it for. Since I get sleepless nights just thinking and drooling about the Samsung Smart TV I think it's best I list down everything I can do with it if and when I get my own. The list after the break is in no way complete because of all the things Samsung Apps can add to the features of the device. It's really the ultimate couch potato gadget!
Things I can Do With A Samsung Smart TV
1. Browse and Update Facebook
2. Browse and Update Twitter
3. Look for Recipes Online
4. Get more information about the movie I'm watching via the web browser or built in app
5. Check the weather with the AccuWeather App
6. Play Texas Hold'Em with my friends
7. Skype video session with my brothers that are in Singapore
8. Random internet browsing
9. Teach kinds the value of money with the Market Game App
10. Exercise using the Exercise TV App
11. Get better abs with the Six-Pack Pro App (if I'm not lazy)
12. Relax and hang around using the Ambiance App
13. Watch YouTube videos
14. Play Chuzzle with my nephew
15. Chat with my Google Friends using the GoogleTalk app
16. Browse all my social networks while watching TV with the Social TV App
17. Learn how to Tie with the How to Tie App
18. Set a romantic mood with the Mood Light App
19. Listen to streaming music with the Napster App
20. View my Picasa album with the Picasa App
21. Take care of my very own virtual pet with the Smile Pet App
22. Teach kids Astrology with the Skyiew App
23. Go Bowling with the Dynamic Bowling App
24. Get international news via the USA Today App
25. Play Bejeweled with my girlfriend
26. Exercise my brain with the Brain Challenge App
27. Learn to play black jack with the Black Jack app
28. Watch all the HD Movies I want
29. Look cool while watching TV with the 3D glasses
30. Go through all my pictures in HD
31. Watch videos from Break.com with the guys
32. Do video conferencing while I'm at home
33. Do some work while I'm at home and watching TV
34 Send emails to my boss and colleagues from the comfort of my couch
35. Improve my IQ some more with the Dr. Brain app
36. Learn more words with the Extreme Hangman app
37. Buy stuff on Amazon.com
38. Shop on eBay.com
39. Order from McDo Online Delivery
40. Order pizza online
41. Play Pac-Man! FTW!
42. Watch videos from Vimeo with the Vimeo App
43. Learn how to draw with the We Draw App
44. Get more news from the AP News Ticker App
45. Get the latest from Yahoo!
46. Know where to go with the Google Maps App
47. Get more geeky stuff from Geek Squad App
48. Watch my favorite NatGeo shows on HD or 3D
49. Convert all my 2D movies to 3D!
50. Shop for anything online
51. Play God of War on the beautiful LED screen all day all night
52. Play Street Fighter with the guys all night long
53. All night movie marathon with my fiancee
This list is in no way complete and will never be finished so expect me to add more as time goes by. I really wish I can be blessed enough to take home one of these so please help me out by commenting or sharing this post to your friends and loved ones. Who knows I may enjoy the Samsung Smart TV with you someday! Assuming it's in my living room of course.
Posted by Jab Escutin
Source:
Samsung Smart TV