Samsung is really out to position itself as the top consumer electronics company in the world and they're one step closer to that goal by making the sexiest notebook PC in the market right now. The Samsung Series 9 Notebook is the thinnest and lightest PC you can haul around wherever you go luckily Samsung didn't stop with just the vital statistics of the device they also made it a point to make it as sexy as possible. Measuring at just 0.64 inches at it's thickest point and weighing at a measly 1.31kg the Samsung Series 9 is not only a "Sexy PC" it is "THE Sexiest PC". Read on to satisfy your gadget lust!
First things first, you have to join the Samsung Series 9 Fan Page as their going to tell you how you can get a chance to take home your very own Samsung Series 9 Notebook which is worth around PHP 79k. Yes, there is a chance we can win one of these beautiful and sexy gadgets. Just click the image and you'll be taken to the Fan Page and all you have to do is like their page to get the latest news and updates.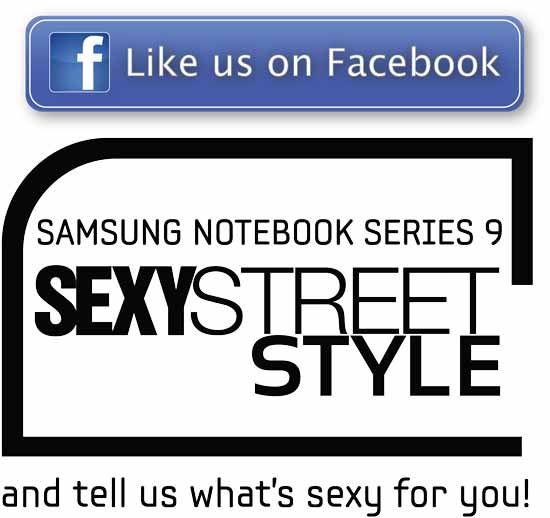 A sexy device needs to have a sexy launch and that's exactly what Samsung did last March 22nd at the Peninsula Manila where they featured the latest in fashion to go with the sexy gadget. Check out the video below to see the event highlights.
If light and sexy isn't enough for you check out the heavy and decked out specs of the Samsung Series 9 Notebook:
Samsung 9 Series Specs:
2nd Generation Intel Core i5 Processor 2537M (1.40 GHz, 3MB; turbo up to 2.3 GHz)
Genuine Windows 7 Home Premium (64 bit) / Windows® 7 Professional (64 bit)
4GB DDR3 (up to 8GB)
128GB Solid State Drive (up to 256)
13.3-inch HD LED-backlit SuperBright Plus display (400 nit)
Resolution: 1366×768
Intel HD GT2 Integrated Graphics
802.11b/g/n, Bluetooth 3.0, WiMax
USB 3.0
3 watt (1.5W x 2) stereo speakers and 1.5 watt sub-woofer
1.3megapixel HD Webcam
Li-Po battery (up to 6.5 hours)
2.89 lbs.
As somebody that needs to have a mobile PC at all times it's really important for me to have a light PC I can bring around without breaking my back due to the sheer weight. But at the same time I want something that looks cool and sturdy and strong enough to attend to my needs.
A sexy PC for me is something that can handle all my blogging needs without feeling like I'm hauling a ton of bricks with me. It should also have the power to back the great looks because I still need something that can handle all my simple editing and fast enough to catch up with all the work I need to do while on the go.
What about you? What's a sexy PC for you?
Posted by Jab Escutin
Source:
Samsung Series 9