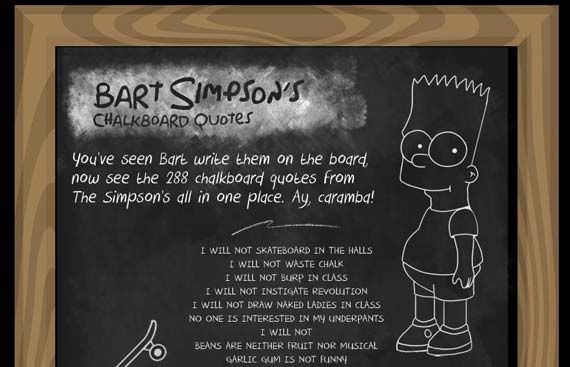 If you have keen powers of observation you might have noticed that every time an episode of the
Simpsons
would start Bart writes something different on the chalkboard. I really wouldn't know most of 'em because I'm too lazy to read and it really passes by too fast for me to process. Luckily there's someone out there on the interwebs with a lot of time on his hands to compile each and every one of Bart's Chalkboard Quote! It's a fairly interesting read if you have nothing else to do in the next 5 minutes of your life rather than searching for Simpsons Porn all day.
Update:
Apparently there's already a
twitter account
If you find it a little too small for your taste just go ahead and click the source link below for a closer look!
Posted by Jab Escutin
Source:
CableTv