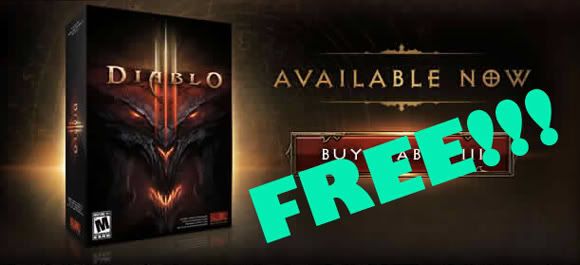 So all your friends have started disappearing from the real world to play
Diablo 3
. And for some other worldly reason you have no clue what Diablo 3 is and what the fuzz is all about. It's either you lived under a rock or your parents hate video games and think it's the work of the devil. Whatever the reason is you're probably curious and would like to play but don't want to pay for the game unless you're sure you'll enjoy it. Luckily for you there's a way to get
Diablo 3 for free
and all you have to do is read the instructions after the break.
The free version of Diablo 3 is actually called the "Starter Edition" and assuming you have a friend that actually bought the game you can download the Diablo 3 Starter Edition for free.
What you need to get Diablo 3 for free:
- Diablo 3 Guest Pass
- A Battle.net account (You can create for free)
Here's a clip from Blizzard's Diablo 3 Starter Edition Page
How do I get the Diablo III Starter Edition?
Log into your Battle.net Account Management page and navigate to the Download Game Clients section. The Diablo III Starter Edition will be available for download there.

Players without a Battle.net account can create one, and then download the Starter Edition.

Note: The Diablo III Starter Edition will not be available without a Guest Pass until further notice.
As the name implies the free Diablo III Starter Edition will only have limited features available to players who want to get a feel of the game.
Players on Starter Edition game licenses have the following restrictions:

- Act I up to the Skeleton King is available
- Level 13 cap
- Matchmaking available only with other Starter Edition players
- No Real Money Auction House access
People who aren't sure that they're laptops or desktops are capable of playing Diablo 3 at a decent rate will want to download the free Diablo III starter edition first to see if they need to buy a new gaming rig. If you need more information about getting the Diablo III Starter Edition just go ahead and click the source link.
Posted by Jab Escutin
Source:
Blizzard